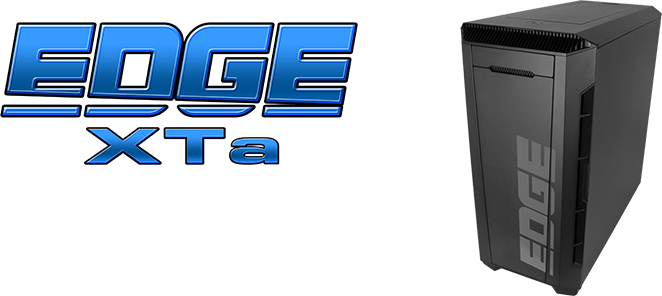 INTRODUCING OUR AMD-POWERED WORKSTATION
NextComputing is proud to partner with AMD, consistently breaking down barriers of power and performance, offering solutions that reinvigorate the high-end PC market. We are excited to support AMD's latest Ryzen, Threadripper, and EPYC CPUs with our Edge XTa workstation!
Powerful creative applications demand ever-increasing system capabilities. Gain a leg up in the race to keep up with software development by investing in the power you want right now, and the power you will need in the future with purpose-built, performance-tuned Edge XT workstations.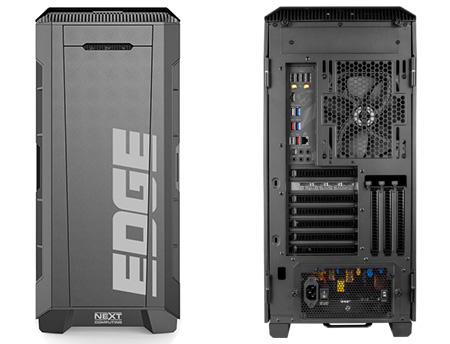 UNPRECEDENTED PROCESSING POWER

Workstation-class AMD Ryzen Threadripper, Threadripper PRO and AMD EPYC processors. Configurations include high CPU core count for 3D rendering of images and animations, encoding videos, and Elastic/Kibana data visualization use cases and fast CPU clock speeds for 3D modeling use cases.

Performance Tuned

Optimized for popular creative developer applications then configured and integrated for your requirements
Multi-GPU Support

Leverage one or more full-size workstation-class GPU cards for graphics or AI workflows and machine learning optimized performance

Massive Storage

Multiple storage options including PCI Express based or SATA-based SSDs

Application Support

We work directly with our customers every day to ensure that our computers meet their unique requirements
"NextComputing continues to innovate by designing a grounds up, compact workstation featuring AMD Ryzen Threadripper, which is proving to be a market favorite for workstations. AMD is excited to support NextComputing in the introduction of the Edge XTa. NextComputing's Edge XTa will provide the performance that the most demanding creative professionals and design engineers need for content creation and production and simulation, respectively."
- John C. Morris General Manager Workstation Compute Business Unit , AMD
Now with AMD Ryzen Threadripper PRO 7000
The latest AMD Ryzen Threadripper PRO 7000 Series processors and PRO 7000 WX-Series processors bring the latest technology to both the professional and high-end desktop market with innovative features like:
Up to 96 cores, 192 threads, to accelerate multithreaded tasks
Higher frequencies for seamless 3D modeling and design
Fast DDR5 memory to tackle to the most demanding projects
Up to 128 PCIe 5.0 lanes for advanced GPUs and high-speed storage
Demanding professional workstation users rely on a variety of applications in their workflow, each with different compute requirements that when properly addressed, yield improved performance and productivity. AMD Ryzen™ Threadripper™ PRO 7000 WX-Series processors build on battle-tested performance and capability to equip artists, architects, and engineers with unrivaled performance by addressing common lightly threaded and multithreaded bottlenecks.
AMD PRO technologies provides layers of security features, seamless manageability, and reliable longevity so you can work confidently and securely. AMD innovations go beyond pure processing speed because today's modern workplace needs every possible advantage.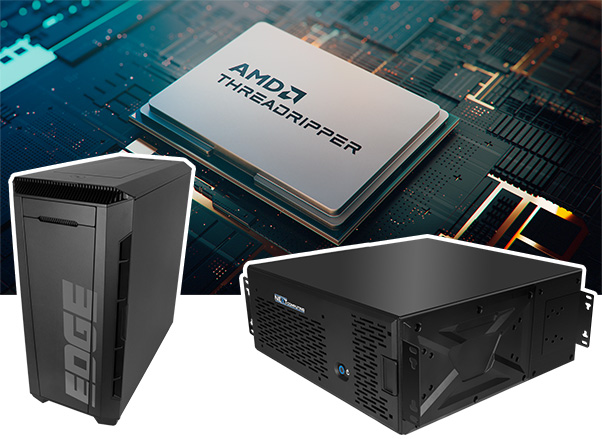 In Stock
In stock

AMD Ryzen Threadripper PRO 5955WX
64GB RAM
NVIDIA T1000
2TB SSD

In stock

AMD Ryzen Threadripper PRO 5955WX
64GB RAM
NVIDIA T1000
2TB SSD
Built to order
Showing 1–12 of 42 results
Available to ship 2-4 weeks after receipt of order with possibility to expedite

Single AMD Ryzen 9 7900X
64GB DDR5 RAM
2TB M.2/NVME Solid State Drive
Dual Nvidia GeForce RTX 4090 graphics cards
Solution, Engineering, and Integration Services
NextComputing offers services for solution success and fast time to market or deployment. Outsource tasks and let NextComputing handle processes that are not core to your business so you can focus on what you do best.
See our Services section for a complete look at how we can build, brand, validate, and maintain the perfect appliance for you or your customers.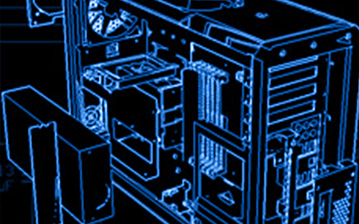 Reduce Costs

Contain soft costs with an appliance solution validated by us

Generate New Products

Quickly deploy a variety of turnkey solutions based on a common architecture

Save Time

Let us handle configuration management for updates or branching out to new products

Extend Your Brand

Put your logo on the system to create your own branded product

And Much More!
Available CPUs

AMD Ryzen™ Threadripper™ PRO 7995WX (96-cores)
AMD Ryzen™ Threadripper™ PRO 7985WX (64-cores)
AMD Ryzen™ Threadripper™ PRO 7975WX (32-cores)
AMD Ryzen™ Threadripper™ PRO 5995WX (64-cores)
AMD Ryzen™ Threadripper™ PRO 5975WX (32-cores)
AMD Ryzen™ Threadripper™ PRO 3995WX (64-cores)
AMD Ryzen™ Threadripper™ PRO 3975WX (32-cores)
AMD Ryzen™ Threadripper™ PRO 3955WX (16-cores)
AMD Ryzen™ 7000 or 5000 Series Processors
AMD Ryzen™ Threadripper™ 3990X Processor (64-cores)
AMD Ryzen™ Threadripper™ 3970X Processor (32-cores)

AMD Ryzen™ Threadripper™ 3960X Processor (24-cores)

AMD EPYC

™

9754 Server Processor

Memory

Up to 256 GB (32 GB single DIMM capacity) of system memory

Networking and Data Off-Load

AMD Ryzen configurations (Asus PRIME X570-P):

1 x LAN (RJ45) port(s)
2 x USB 2.0
2 x USB 3.2 Gen 1 (up to 5Gbps) ports Type-A
4 x USB 3.2 Gen 2 (up to 10Gbps) ports Type-A

AMD Threadripper configurations (Gigabyte

TRX40 DESIGNARE)

2 x RJ-45 ports
1 x USB Type-C™ port, with USB 3.2 Gen 2 support
5 x USB 3.2 Gen 2 Type-A ports (red)
2 x USB 2.0/1.1 ports
2 x SMA antenna connectors (2T2R)

AMD Threadripper PRO configurations

1 x USB 20Gbps port (1 x USB Type-C®), 6 x USB 10Gbps ports (6 x Type-A), 2 x USB 2.0 port (2 x Type-A), 1 x Wi-Fi Module
1 x Marvell® AQtion 10Gb Ethernet port, 1 x Intel® 2.5Gb Ethernet port, 2 x Audio jacks, 1 x Optical S/PDIF out port, 1 x BIOS FlashBack™ button, 1 x Clear CMOS button

AMD EPYC configurations (ASRock EPYCD8-2T)

2+1 RJ45 Gigabit Ethernet LAN port

2x USB 3.1 Gen1 Port

Upgrades available: 10G and other networking PCI Express cards

PCI Expansion

Up to 7 full-length PCI Express x16 slots depending on processor configuration. Ask your NextComputing Sales Engineer.

Storage

500GB M.2 PCIe Gen3. X4, NVMe OS/application SSD for fast boot and load.
1TB M.2 PCIe Gen3. X4, NVMe OS/application SSD for application data
Upgrades available:

Threadripper motherboard only: Additional (1) M.2 SSD up to 2TB
Up to (4) 2.5" Solid State Drives up to 4TB each - only (2) 2.5" SSDs if any 3.5" drives installed
Up to (2) fixed 3.5" SATA/SAS hard drives, up to 10TB each

RAID
Options for onboard SATA RAID 0/1/5/10, or via add-on PCIe RAID controller. Ask a NextComputing Sales Engineer.
Operating Systems

Operating Systems supported include: Windows 10, CentOS , Red Hat Enterprise Linux , VMware vSphere , Windows 2019 server, Ubuntu

Power

1200W ATX 80 PLUS PLATINUM certified fully modular power supply; 90- 264V, 47-63Hz auto-switching
Additional upgrade available to 1600W PSU 80 PLUS Gold certified 115 - 240 V 50/60Hz auto-switching

Physical
9.5" (240mm) x 20.5" (520mm) x 20.1" (510mm)
Warranty
3 years parts and labor