PCI Express 3.0 expansion for the flexibility you need
Today's most demanding software applications require not only substantial processing power and speed, they are also becoming more specialized to solve particular industry problems such as HD video capture and encoding, network data monitoring, and geospatial imagery analysis. Often this requires the addition of one or more specific PCI boards to handle application-specific data like video, network traffic, or satellite imagery.
Having sufficient I/O expansion in form of standard PCI and PCI Express slots is vital to support these types of applications, but if you need portability, a laptop simply does not offer this capability. Normally your only option is to use a tower workstation or traditional rackmount server since these are the only form-factors available that can support multiple full-length, full-height expansion cards. But these systems are not portable, not rugged, and not viable in size-restricted work spaces.
Even if you don't need portability, or you prefer a standard rackmount system, your troubles are not necessarily over. Traditional high-performance systems are often built using proprietary motherboards in which the available PCI expansion slots are tied directly to the CPU, RAM, and other board infrastructure. This means that if the set of cards you require for your application changes and your motherboard no longer supports these cards, you need to upgrade the entire system, incurring unnecessary costs.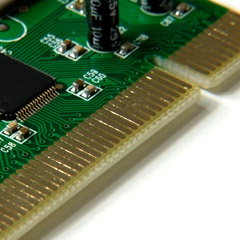 Portable, Flexible, Powerful
With our experience designing the most portable and flexible high-performance computers around, NextComputing has solved the PCI expansion problem. By combining off-the-shelf hardware and our unique modular architecture, we're able to customize incredibly small, powerful systems that give you the performance you need with the flexibility of full-length PCI and PCI Express 3.0 expansion slots. And for more traditional rackmount based applications, our modular design allows you to upgrade your slot configuration independently of the rest of the system, giving you better return-on-investment than typical hardware.
NextComputing portables and rack-mount systems support multiple full-length, full-height PCI Express 3.0 cards, with some systems supporting up to 7 cards. Whatever expansion cards your job demands, NextComputing systems can give you what you need.
Please contact us to configure a system to meet your particular I/O expansion needs.

A NextComputing Sales Engineer is available by phone or email to help you configure a system to meet your particular I/O expansion needs.