Samsung and NextComputing
LIVE 360 VR IN ACTION
PORTABLE 360 VR END-TO-END
WORKFLOW WORKSTATION APPLIANCES

The Samsung 360 Round camera is revolutionizing 360 VR content creation, being the first 360 camera to offer sought-after features like stereoscopic 3D and spatial audio at an amazing price. But to get the most from your 360 Round, you need to pair it with the right hardware.
Enter NextComputing's Radius and Edge series high-performance portable workstations: turnkey systems for live production and post-production with the Samsung 360 Round. Now you can produce 360 VR content from anywhere with confidence.
For live broadcast, the Radius Live allows live stitching and streaming directly from the Samsung 360 Round to 360 video platforms like YouTube, Facebook, and Samsung VR, or outputting 4K stereoscopic 360 video to external encoders or live switching systems.
For off-line stitching and editing of your 360 Round clips, the Edge offers desktop-level performance in the smallest possible packaging, allowing you to review and edit your footage as quickly as possible on location or in the studio.
With all NextComputing systems you get the portability of a laptop with no sacrifices in performance. NextComputing systems are field tested and fully backed by a company with two decades of experience in production computing.
Radius Live for Samsung 360 Round Live Streaming
Edge for Samsung 360 Round Post-Production
Turnkey systems for Samsung 360 Round live stitching and streaming software
Stream high-quality live 360 content to YouTube, Facebook, and Samsung VR platforms
All-in-one systems with full HD display
Record and edit 3D 360 content on the same system
Rick Graves at Laguna Seca Raceway - The Making of 360 Video
Samsung's 360 Round and NextComputing Add a New Dimension to Visual Storytelling
Storyboarding for a 360 Video Shoot
VR Workflows: Producing and Editing Professional 360 Videos with Samsung and NextComputing
How Will 360 Video and VR Shape the Future of Streaming Video?
Samsung Insights interviews - Shooting for VR? Experts Share Their Tips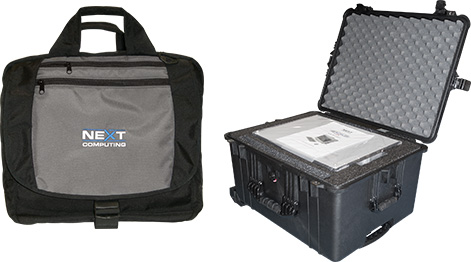 system transportation cases
Carrying cases are available for the Radius Live and Radius Edge. Options include:
High-quality, padded carrying bags with a shoulder strap and extra pockets for your accessories, and can be branded with your company logo.


Rugged hard cases that are crushproof, air tight, and built to withstand frequent travel or harsh environments. We customize the internal compartments of the case to fit your system and accessories.
Product
Radius Live for Samsung 360 Round Live Streaming
Radius Edge for Samsung 360 Round Post-Production
Processor
Intel Core i7-7820X 8-core 3.6GHz
Intel Core i7-8700K 6-core 3.7GHz
Memory
32GB DDR4 2666MHz RAM
32GB DDR4 2666MHz RAM
Storage

Samsung 960 EVO 500GB M.2 SSD

Samsung 960 EVO 500GB M.2 SSD

Graphics

2x NVIDIA GeForce GTX 1080 Ti 11GB GDDR5X

NVIDIA GeForce GTX 1080 Ti 11GB GDDR5X

Ports

2x Gigabit Ethernet
802.11ac wireless
1x USB 3.1 Type-C
8x USB 3.1

1x Gigabit Ethernet
802.11ac wireless
1x Thunderbolt 3
6x USB 3.1

Optional
Accessories

Rugged transport case
Padded transport case
2TB SSD storage upgrade
32GB RAM upgrade
SDXC memory card reader
Stereoscopic 3D 4K SDI output

Rugged transport case
Padded transport case
2TB SSD storage upgrade
32GB RAM upgrade
SDXC memory card reader

Buy Online
Buy Online
Custom Rackmount Solutions
If your needs require more than a single-camera system, NextComputing also provides turnkey rackmount systems for multi-camera live production. Unlike piecemeal approaches using separate stitching computers and traditional broadcast switchers, NextComputing's solution elegantly integrates every component of the 360 live production workflow into as few cases as possible, and with only minimal cabling. Systems can be customized from a single transport case to a road-ready bundle complete with monitors and monitor travel cases.
Customizable and scalable from 2-4 cameras and as little as one ATA rolling rack case
Real-time 4K stereoscopic 3D stitching of all Samsung 360 Round camera inputs in a single rack
Integrated UHD multi-viewer for live preview of all stitched outputs, upstream from the switcher
Multi-cam 360 switcher with video and graphics overlay capability (powered by Voysys)
Dedicated 4K 3D encoder system (powered by Voysys)
Audio mixer with Dante network I/O and built-in audio delay
Integrated WiFi router for handset/headset preview
Optional 4G LTE uplink modem for broadband streaming or failover
To order, or to discuss your perfect configuration, contact Aaron Sherman at NextComputing
About Samsung 360 Round
The Samsung 360 Round is a high-quality 360° professional camera for creating and livestreaming 4K 3D content to deliver an exceptional virtual reality experience. Built for hours of continuous shooting with a compact, uni-body chassis designed to reduce heat and power consumption. With expandable connectors and ports for easily connecting additional equipment, the 360 Round provides long lasting shooting for any sized job.