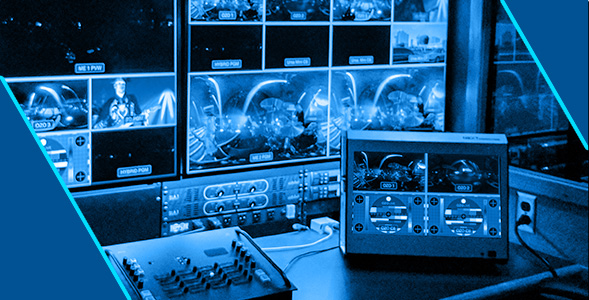 Creating compelling content requires tools that enable the creative process, not tie you down. Whether you're shooting a feature film, editing a documentary, conducting a live webcast, or producing a sporting event, you need technology that is reliable, proven, and easy to use.
NextComputing's products are designed for the needs of professional content producers. Now you can replace that aging workstation or lackluster laptop with a more robust system, backed by a company that understands your challenges and knows how to overcome them.
Applications like Cinema 4D, Autodesk 3DS MAX, MAYA, and Adobe Creative Cloud excel at what they do when they've got the best hardware to back it up. NextComputing portables offer just that.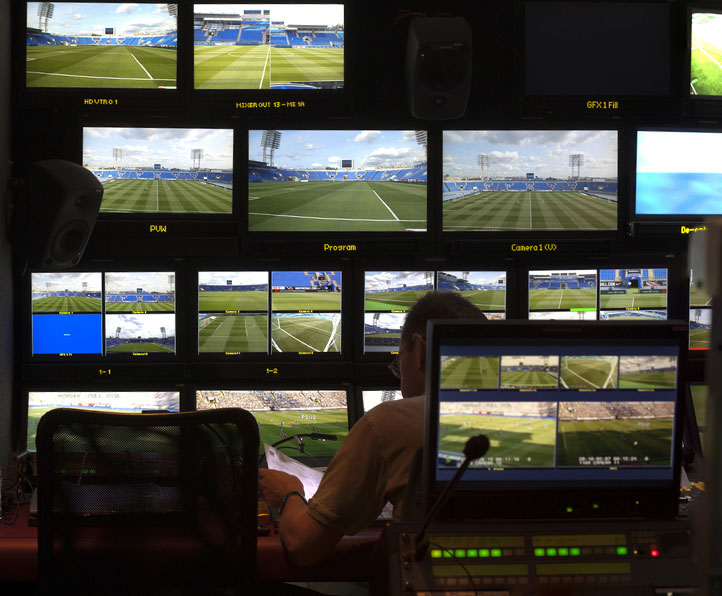 Industry-Specific Solutions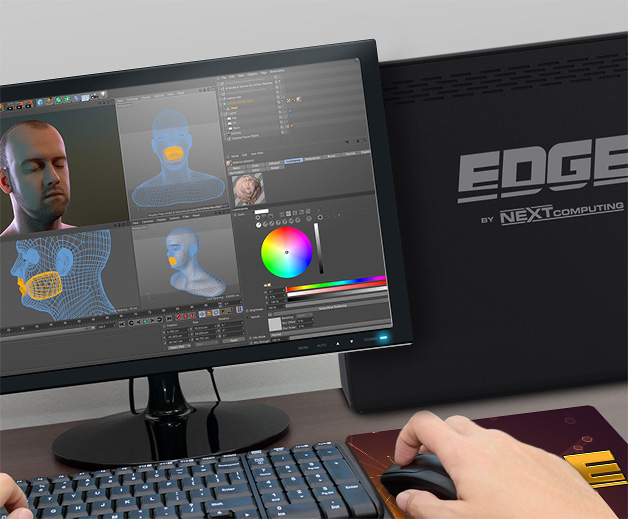 3D Design & Animation
NextComputing systems let you work quickly and fluidly with your favorite 3D modeling and animation tools. Our computers speed up your process with professional-grade processors from AMD and Intel, multiple high-end graphics cards, and extensive storage; exactly what you need to optimize your creations.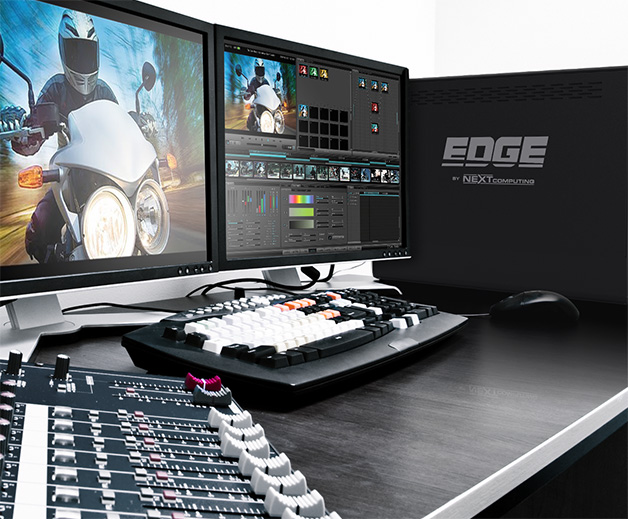 Video Post Production
NextComputing's products are designed for the demands of professional content producers who need smooth editing, color grading/mastering and visual effects. Now you can replace that aging workstation or lackluster laptop with a more robust system, backed by a company that understands your challenges and knows how to overcome them.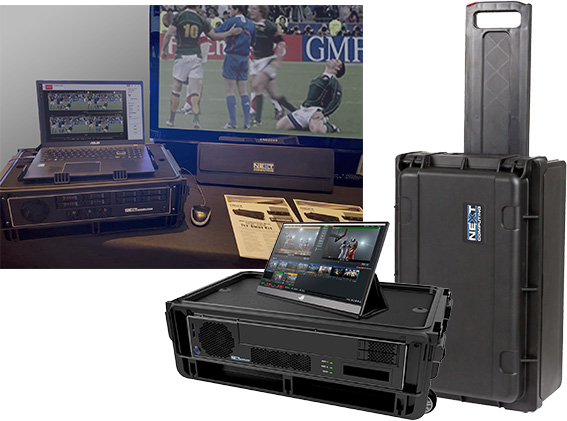 Unleash Powerful, Portable Media Production Anywhere
If you're a media and broadcast professional looking for a robust, portable system that can be quickly set up and packed away, NextComputing Fly-Away Kit (FAK) solutions might be the ideal for you. These kits are configurable and designed with high-performance portable workstations at their core and come fully configured with all the necessary components, accessories, and software to deliver exceptional quality work from any location.
Advantages of the NextComputing Media/Broadcast Fly-Away Kits:
High Performance: The kits are based on powerful portable systems capable of handling demanding tasks such as 4K video editing and multi-platform live streaming.
Portability: The design focuses on ease of transport, making them suitable for on-location shoots, events, and conferences.
Quick Setup and Takedown: They are engineered for rapid deployment and dismantling, saving valuable time and effort in fast-paced work environments.
Durability: Constructed to endure the challenges of travel, these kits ensure your equipment remains safe under tough conditions.
Customization: A range of configurations is available to match your specific requirements, whether it's for video editing or live streaming.
Professional Support: Expert guidance is provided to maximize the utility of your system, allowing you to concentrate on producing high-quality content.
Tailored Configurations: Beyond standard options, NextComputing offers custom configurations to meet unique professional demands.
Third-party Integration: The ability to incorporate third-party hardware and software means you can continue using preferred tools seamlessly within the new system.
For those who need a dependable, high-quality portable setup for post-production, live streaming, or video editing, the NextComputing Fly-Away Kit is a compelling option. To explore how these kits can enhance your work and for more information on customization, reaching out to a NextComputing Sales Engineer is recommended.
Designed for best-in-class components - Built to use AMD motherboards that leverage the extreme power of the latest AMD Ryzen Threadripper, AMD Ryzen Threadripper PRO, and AMD EPYC processors
Versatile form factor - Stackable design and removable front and rear side rack ears for use as either a rack mount or desktop system. Durable, compact, and deployable aluminum alloy chassis with active front-to-back cooling.
Modular design - Built for optimal airflow volume and direction for best cooling/thermal performance with high-end PCI Express cards
XL version available - An extended version of the NextStation-TR is available with a deeper chassis designed to support NVIDIA RTX Ampere series GPUs for server/GPU co-processing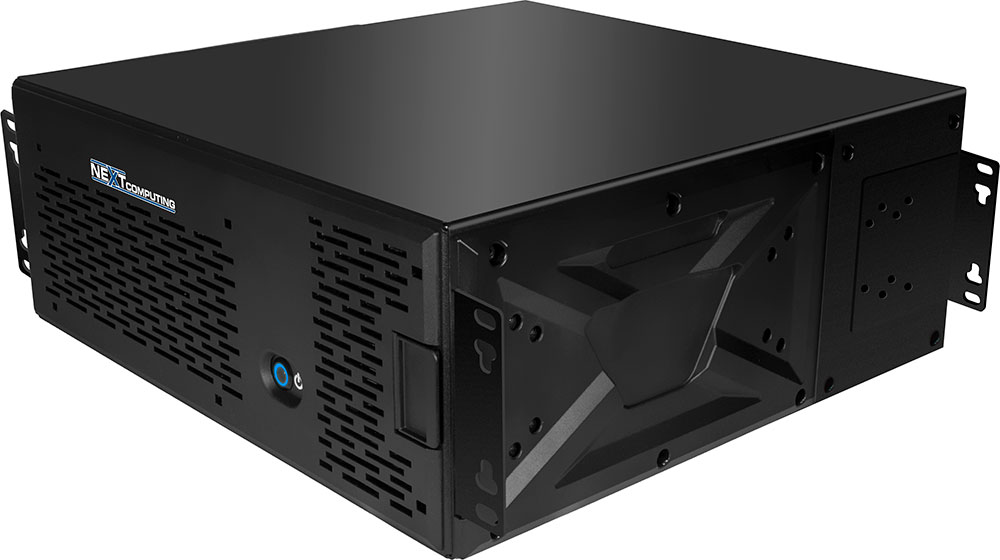 Breakthrough GPU performance - Featuring single or dual small form factor NVIDIA RTX 4000™ SFF Ada Generation GPUs.
Portable display included - For easy deployment anywhere you need to be, NextStation-TSA comes with the Strix Portable USB Type-C Monitor from Republic of Gamers. This 17.3-inch full HD display features a 240 Hz refresh rate, 3 ms response time and a powerful battery for up to 2 hours of on-the-go use plus quick charge technology.
Versatile form factor - The durable, compact aluminum alloy chassis features front to back cooling and is usable as a desktop workstation or deployable anywhere with the rugged TSA-carryon compliant hard case with wheels, telescoping handle, and portable display.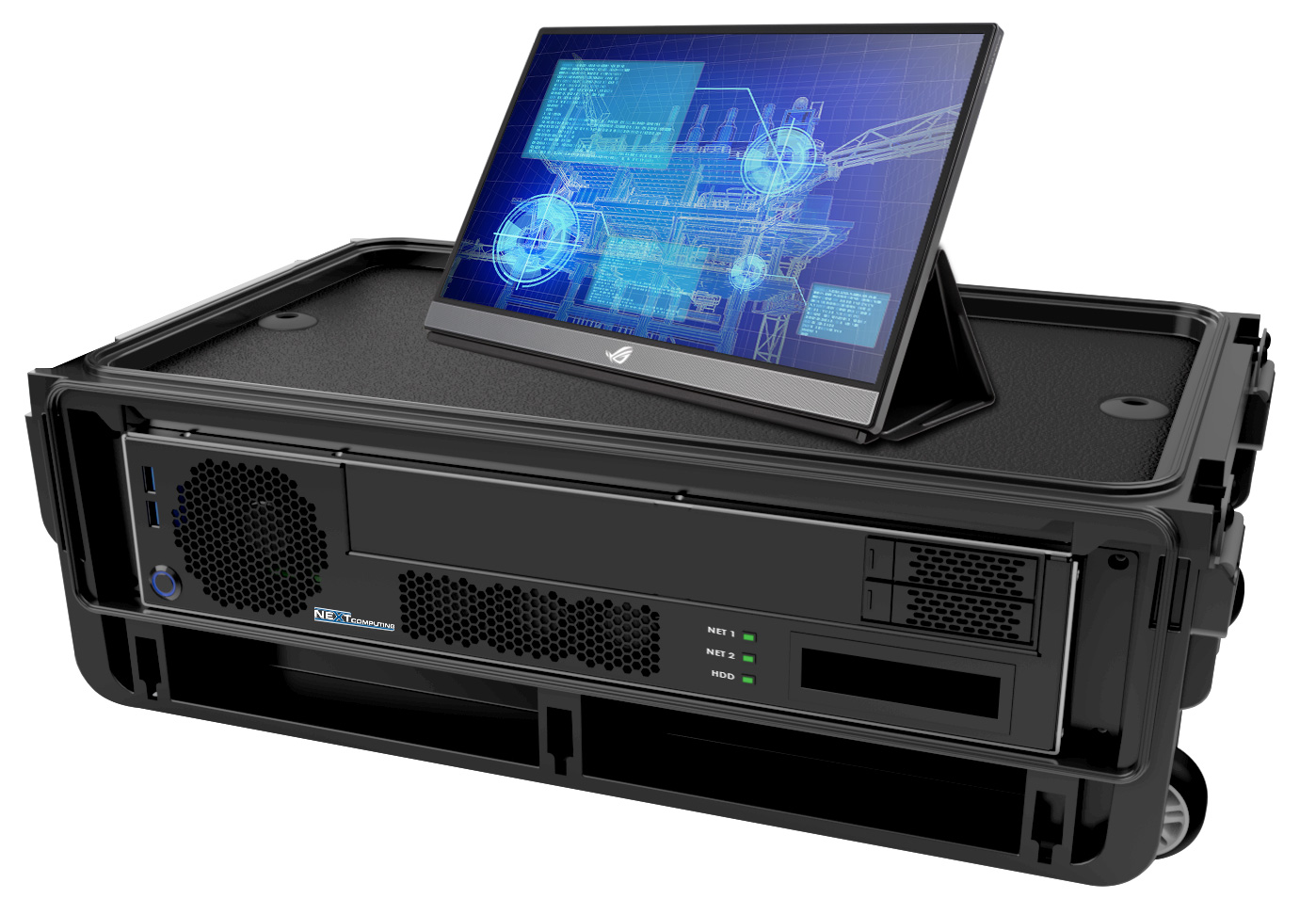 Livestream Studio HD51 / HD1710
Professional live video streaming made easy - NextComputing combines specially-designed hardware platforms with Livestream Studio live production switcher software for turnkey end-to-end live video streaming. The result is the most versatile, powerful, all-in-one solution for professional quality live video production. Input multiple feeds, add graphics, master audio, and stream in one robust, easy-to-use package.
The Livestream advantage - Versatile, powerful Livestream Studio software allows you to connect any camera, manage frame-accurate switching and compositing, output broadcast-quality video, and stream live to multiple destinations.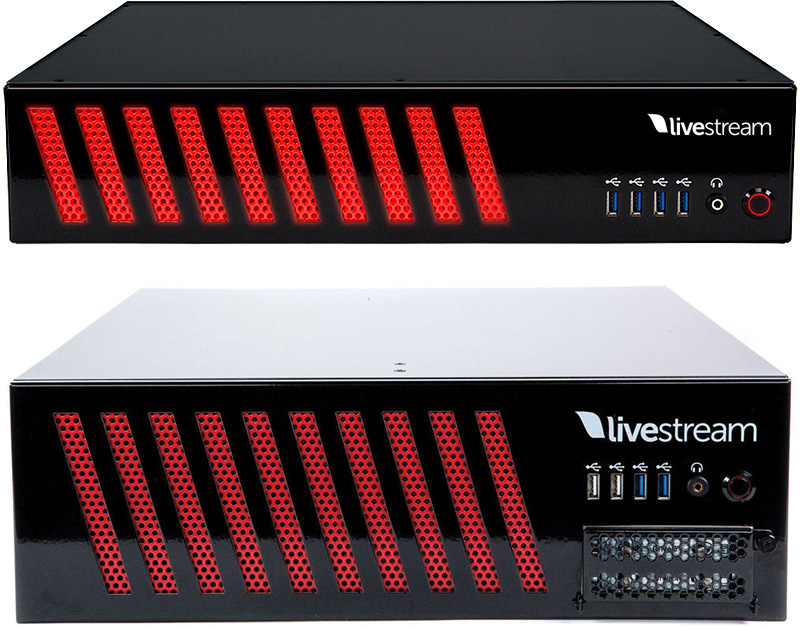 vMix Rackmount Workstation
vMix is a Software Video Mixer and Switcher that utilizes the latest advances in computer hardware to provide live HD video mixing, a task previously only possible on expensive dedicated hardware mixers.
NextComputing offers systems that are optimized to utilize vMix live production and streaming software to its fullest.
Whether you are looking to produce big budget live concert productions, sporting events, Church services or small webcasts, then vMix is for you.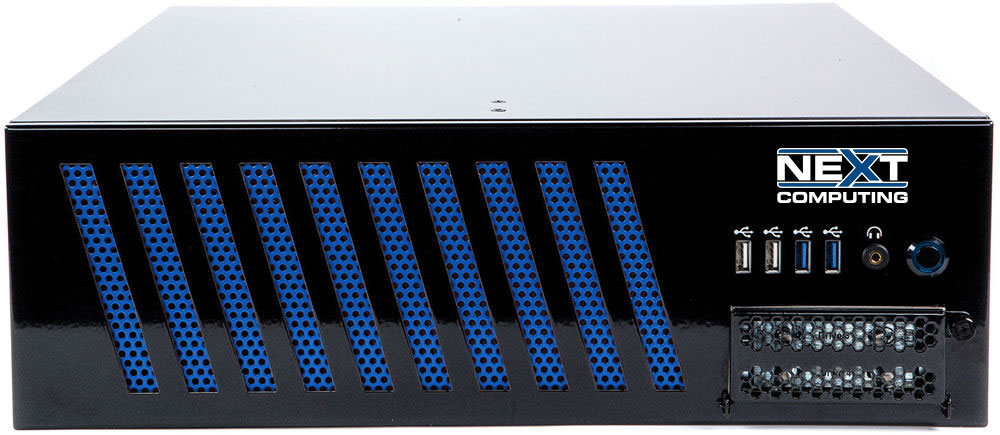 ‍The Mobii Smart Encoder is designed for semi and permanent based on-site installation. Deployed into sport stadiums/arenas, broadcast production sites, data centers and outside broadcast vehicles, the Smart Encoder will ingest a variety of input video sources such as SDI, NDI, SRT, MPEG-TS. The encoder will ingest, synchronize, encode and upload Microblock streams to the nearest cloud regional edge cluster for global distribution via the Co-Ordinator, or output a variety of streaming formats to local network for on-site usage.