Easily expand and enhance your product line to meet the needs of your customers and offer lasting value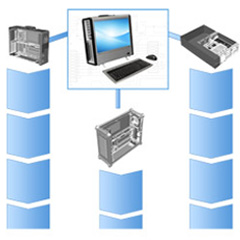 You're considering, or have purchased, your ideal computing solution with one of NextComputing's portable workstation, rugged portable, or rackmount platforms based on our flexible system architecture. Now, you are thinking about how you might further enhance your business by extending your toolset or expanding the offerings to your customers.
That's where NextComputing's common architecture comes in.
Although we offer many different form-factors, we have designed all our products using a modular, enterprise-class architecture that allows us to easily deploy your application on multiple types of systems that share common elements.
Do you want to offer your solution in both portable and rack-mount systems?
Do you have a customer that likes your portable product, but needs something more rugged for use in a harsh environment?
Do you need fast hardware upgrades across your entire line of products?
With our modular design approach you can avoid time-consuming re-testing on new hardware platforms, letting you introduce new products to market quickly and creating an entire family of products to suit your various customers' needs.
How you can benefit
Easily integrate new technology and other performance enhancement plans
Create incremental revenue and upgrades for your installed base
Minimal overheads to release incremental product and service updates
Produce a sustained sequence of new and innovative products
Shorter time to market for new products that are based on existing architecture
Leverage your existing investment in software and hardware
Set yourself apart from the competition

Contact us to learn more about our flexible, modular system architecture and how it can help you grow your business.