Take Workstation Performance On The Go -
In The Field, To The Network Edge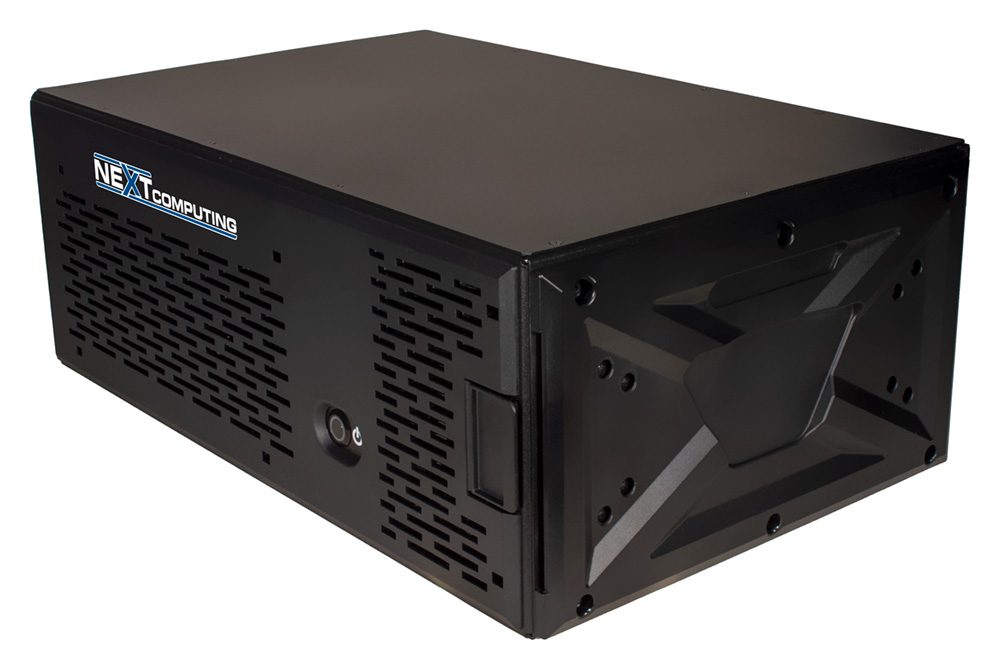 Smallest Form Factor, Highest Performance

Utilize as a desktop system or versatile short-depth rackmount

Easily Transportable

System and hard case combined are less than 35lbs for single-person lift and as aircraft carry-on

Modular and purpose-built

Configure your power, storage, and expansion options for your specific high-performance use case. Supports (1) or (2) full-length dual-wide NVIDIA Quadro and GeForce GPUs for graphics or AI workflows and machine learning optimized performance

high-performance workstation

Workstation-class processors from Intel and AMD. Configurations include high CPU core count to 64 cores for 3D rendering of images and animations, encoding videos, and Elastic/Kibana data visualization use cases and fast CPU clock speeds for 3D modeling use cases.

Application Support

We work directly with our customers every day to ensure that our computers meet their unique requirements
The intelligent, compact design of the NextStation-X allows for both easy transport and expandability. Its short 12" depth and rack mount options for front I-O access or rear I-O access make it ideal for M&E production and live event use cases including broadcast trucks or other vehicles. It is ideal to use as a workstation with PCI Express I-O for on-set production rendering, encoding, graphics editing, color correction, streaming, ISO recording, and more.
Single or dual Intel processors, to 36 cores or AMD EPYC 7002 series processors to 64 cores
No-tools removable storage includes up to (2) NVME, (8) SAS/SATA SSDs, and (2) SATA 6G SSDs
Includes Secure Boot UEFI compliant BIOS, Intel Boot Guard, TPM2.0 trusted Platform
Certified for CentOS, Red Hat Enterprise Linux, VMware vSphere, Windows 2019 server, Windows 10
PCI Express 3.0 expansion slots for purpose-built I-O configurations and FPGA or GPU co-processing
Systems are stackable, cooling front to back
Includes service and maintenance documents for easy field access, service, and installation of PCIe cards
Compliant with the NextComputing Supply Chain Risk Management Process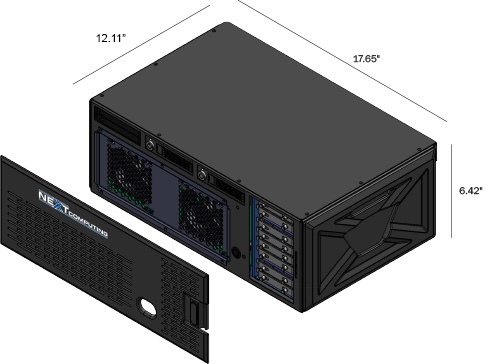 Rack Mounting
The NextStation-X can be operated on a table top, front rack mounted, or front access I-O rack mounted. Rack mounting can be done via only (2) rack mount ears or (4) rack mount ears (front and back). Rack ears can be stored in corresponding slots of the travel case.
System Specs
Available CPUs

AMD EPYC™ 7002 Series Processors (16-, 32-, 64 cores)
Single Intel Single Intel Xeon 2nd generation Scalable Processor Family
Single Intel Core i7 and Core i9 Processor family

Memory

AMD EPYC to 1TB 3200MHz DDR4 ECC memory
Intel Xeon to 1TB 2666MHz DDR4 ECC memory
Intel Core Processors to 512GB 2666MHz DDR4 memory

PCI Expansion

AMD EPYC: 7 PCI Express 3.0 slots (4 x16 lanes and 3 x8 lanes)

Intel: 4 PCI Express 3.0 slots

Storage

Up to (4) removable 2.5" NVME SSDs with capacities up to 15.36TB per SSD and 1 or 2 M.2 SSDs up to 4TB per module or 2 removable 2.5" SATA 6G SATA SSDs up to 4TB per SSD
-or- Up to (8) removable 2.5" 12G SAS up to 15.36TB per SSD / 6G SATA SSDs up to 4TB per SSD and 1 or 2 M.2 SSDs to 4TB per module or 2 removable 6G SATA SSDs up top 4TB per SSD

RAID

Configuration options for up to (3) separate hardware RAIDs and multiple RAID array types including RAID 0, 1, 5, and 6 depending on use cases

Sustained Writes

NVME to 3.3GB/Second per drive (2 drives total)
12G SAS RAID 5 of 8 drives sustained at 6.3 GB Reads and 3.7 GB Writes
6G SATA RAID 5 of 8 drives sustained 2.8 GB Reads / 2.6 GB Writes

Network Interface

Single or multiple 1G, 10G, 25G and 100G network interface options

Security
Secure Boot UEFI compliant BIOS, Boot Guard, TPM2.0
Remote Management
HTML5 and API based out of band management with MAC addresses identification, one time boot on next reboot option, PXE boot option
Operating Systems

Operating Systems supported include: Windows 10, CentOS 7.7 , Red Hat Enterprise Linux 7.7 , VMware vSphere 6.7 , Windows 2019 server

Environmental

0°C–40°C / 32°F–104°F. Non-Operating: -20°C–70°C, -4°F–158°F.
Relative humidity (5-95%) non-condensing
FCC Class A, CE, TUV, ROHS, Conflict Minerals Free

Power

750W 80 PLUS Titanium 110/220V 50/60HZ autoswitching
-or- 850W 80 PLUS Titanium 110/220V 50/60HZ autoswitching

Physical
6.42" H x 17.65" W x 12.11" D. Complete solution including TSA carry-on compliant hard case range from 30 lbs to 45lbs typically (single person lift)
Carrying Case

Includes rugged airline carry-on case, small luggage form factor 10.60" H x 21.20" W x 16" D with telescoping handle & wheels.  

Note that 100% TSA compliance is: 9.0" H x 22" W x 14" D and this hard case package is slightly over that dimension in Height and Depth but compliant in Width. It is likely this will be allowed as carry-on unless physical inspection performed to exact dimensions are done by the airline at the gate

Warranty
1 year parts and labor. 2nd and 3rd year warranty options
Ease of Service and Upgrade
All storage is removable without tools. Easy access for install and removal of PCI Express cards. Easy to service other system elements. Modular design
Purpose-Built Solutions
Private label branding options. Purpose built application integration and configuration control management services.