Let NextComputing handle design and production so you can focus on growing your business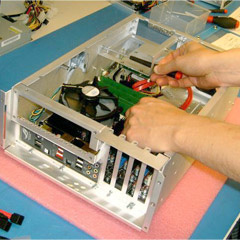 Maybe your business has been building its own appliances, but you don't have the resources to handle higher volumes and it's too costly to hire more technicians. Or you're a software company with a great application, but don't want to deal with hardware at all.
In either case, NextComputing can take on the overhead and complexity of integrating and delivering your turnkey product, including software installation, integrating 3rd party devices like I/O boards, and appliance testing – replicating your own procedures to ensure we're delivering it as exact as you would. Outsourcing integration to us allows you to focus on improving and selling your product.
How your company can benefit
Reduce or eliminate production engineering
Focus on innovating new products, not putting systems together
Avoid costly ramp-up of production personnel and associated infrastructure
Seamlessly scale production into higher volumes with no additional overhead
Streamline operations by dealing with a single vendor

A NextComputing Sales Engineer is available by phone or email to speak one-on-one with you and discuss how we can help you integrate new solutions into your workflow.