More performance in less space
Simply put, dense computing means packing as much computing performance as possible into a chassis, making the most of the available space while at the same time minimizing the effects of heat.
Although laptops may be considered dense machines in terms of pure size, the lack of high-end components and expandability limits their possible uses, particularly for challenging applications. Traditional tower and rackmount servers may provide adequate performance and some flexibility, but are not meant to be portable. And these stationary systems are typically not optimized for density — they are often larger and more power-hungry than they need to be, which becomes difficult to manage in space-constrained environments.
To tackle the problem of computing density, NextComputing designed its own, unique system architecture. Our innovative engineering approach takes into account all elements of the system, from the chassis down to the placement of motherboard components, allowing us to deliver some of the most dense and flexible computers available.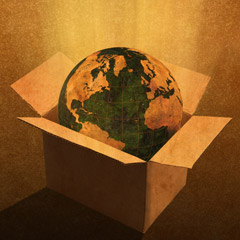 From portable servers to high-density rackmounts
One of the obvious benefits of a more dense design is portability — getting more performance in less space diminishes the overall size of the system, making it smaller and more easily transported. The sheer density of our modular architecture enables our portable workstations to provide true server-class performance in a package the size of a briefcase.
But the advantages of dense computing carry well beyond portability. Server density becomes a critical consideration when designing large datacenter installations, as does power consumption and cooling. By packing more capability in the same or less space than traditional servers, enterprises can reap huge long-term savings. For HPC (High-Performance Computing) applications like financial processing, climate modeling, or high-end visualization, dense computing has a far-reaching impact. But it's not only large-scale server deployments that benefit. Systems engineers must also pay strict attention to space and power when installing vehicle mounted computer systems. Computers optimized for density enable net-centric military vehicles to gather more intelligence for improved situational awareness.
Whether you need extreme portability, a compact rackmount system, or something completely customized for your needs, NextComputing has solutions that deliver enterprise-class performance in the smallest possible packages.

A NextComputing Sales Engineer is available by phone or email to answer any questions and to help you build the perfect solution for your specific requirements.