get the most out of your wireless network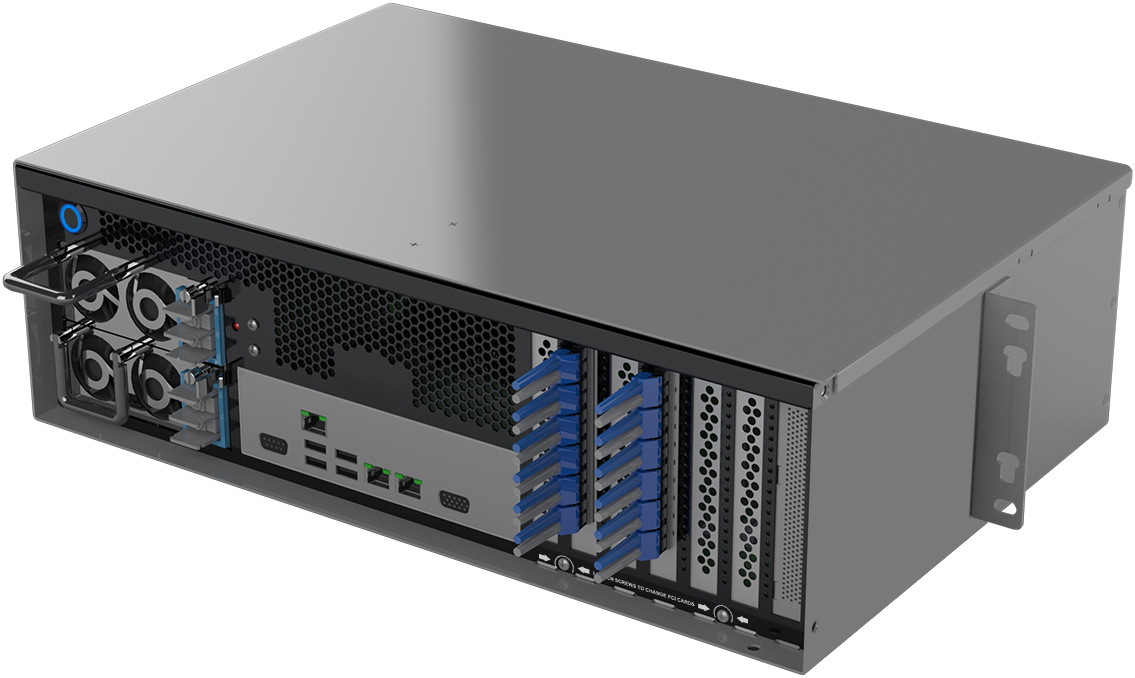 High-Performance

High-density rack system built for optimal performance with telco use cases

Short Rack Depth

2-Post rackmount with compact 3U height, short 12" rack depth

PCI Express Expansion

Flexible PCI Express card I-O configurations for edge computing

Co-Processing

Supports GPU co-processing with NVIDIA GPUs

Reliable Power

1+1 AC or 48VDC power options

Application Support

We work directly with our customers every day to ensure that our computers meet their unique requirements
The Nucleus 2P is a short-depth rack appliance offering high-performance computing in a unique form factor. The 3U height and short, 12" rack depth make it an ideal fit for small, 2-post racks or for ease-of-use wherever you need it to be.
The Nucleus 2P is the perfect solution for network tasks that require high-throughput I/O, PCI Express expandability, redundant power, or maximum performance in minimum space.
The flexibility and data-crunching power of the Nucleus 2P make it an essential part of the toolset for monitoring and optimizing your network.
System Specs
Available CPUs

Standard

Single Intel Xeon Platinum 18-core processor
AMD EPYC™ Rome or Milan Processor (16-32 cores)

High-Performance

Dual Intel Xeon Platinum 22-core processor
AMD EPYC™ Rome or Milan Processor (48-64 cores)

Memory

Standard

256GB DDR4 ECC RAM to 512GB DDR4 2666MHz/3200MHz ECC RAM

High-Performance

512GB DDR4  ECC RAM to 1TB DDR4 2666MHz/3200 MHz ECC RAM

PCI Expansion

Intel-based configurations: (6 or 7) PCI Express 3.0 and 4.0 slots
AMD-based configurations: (7) PCI Express 3.0 and 4.0 slots

Note:

PCI Express cards to ¾ length cards or 9" length.
Full height cards slot availability dependent on NVME storage options installed
If both NVME removable drives installed full height boards in slots 2,3 and 7 only
No configuration restriction with half height cards

Storage

Up to (2) 2.5" SSDs with capacities up to 8TB SATA each or (1) NVMe SSD up to 30.72TB (PCIe 3.0/4.0 options)
Up to (2) optional M.2 SSDs with capacities up to 4TB (PCIe 3.0/4.0 options)

Operating Systems

Red Hat and CentOS Enterprise Linux
VMWare vSphere
Windows 2019 server, Windows 10

Power Options

700W - 48V DC input 1+1 redundant power supply hot swap modules
750W - 1+1 AC 110/220V 50/60Hz auto switching PSU

Physical

Width: 16.96″ (430.78mm) (not including side rails) x Height: 5.25″ (133.35mm) x Depth: 12″ (304.80mm)
Optional reverse rack mounting. Also supports 19" rack and Telco/2 post rackmount

Warranty
1 year parts and labor; 2nd and 3rd year warranties available