Incredible performance, portable powerhouse
Portable Workstation with the AMD Ryzen Threadripper processor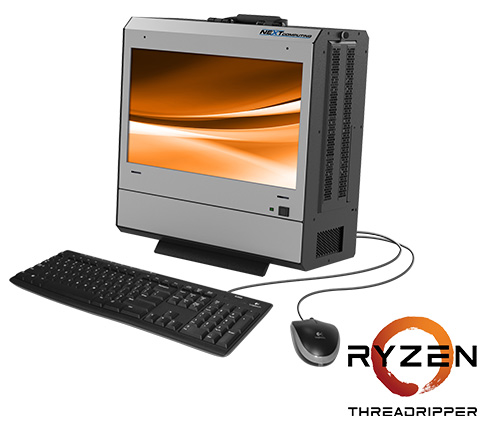 Click images to enlarge
High-Performance Anywhere

The first portable system to feature the AMD Ryzen™ Threadripper™ processor!

Reliable, Flexible Power

Multiple redundant power supply options with AC and DC input

PCI Express Expansion

Up to (7) PCI Express expansion slots with support for a range of graphics cards from NVIDIA and AMD

Massive Storage

Up to 16 removable or fixed SATA, SAS or Solid State hard drives

Application Support

We work directly with our customers every day to ensure that our computers meet their unique requirements
The Radius TR combines the portability and flexible configuration options of NextComputing's Radius portables with the incredible processing power of the AMD Ryzen™ Threadripper™ processor. The result is a computing powerhouse ideal for creative professionals such as 3D artists, VR developers, and HD video/graphics producers.
Beyond content creation, the Radius TR also has the power for advanced use cases such as field-based seismic analysis for the oil and gas industries, and a range of use cases for military and intelligence-based applications that could benefit from a powerful, deployable system in the field. Whether you work in advanced computing fields such as artificial intelligence (AI), machine learning, or deep learning, visually demanding augmented reality (AR) applications, or processing big data for analytics, we have the right tool to optimize your workflow, configured to match your specific needs.
Radius TR configurations feature high-performance memory up to 128GB, up to (16) removable enterprise-class SSD, SAS, or SATA drives, and full-length PCI Express slots for adding high-performance I-O, graphics, co-processing, and RAID controller cards. Also, additional modular power options enable unique configurations including 1+1 or 2+1 redundant power with inputs for working from AC or DC power.
AMD's award-winning Ryzen™ Threadripper™ processors deliver a whole new level of computing power, allowing content creators to use the most demanding applications to develop, create and multi-task. We are excited that NextComputing has designed the first portable AMD Ryzen Threadripper processor-based workstation, providing a combination of power, GPU support and AC/DC power options that enables creative professionals, from multiple industries, to create anywhere they need to.John C. Morris, senior director and general manager,
Workstation Business, Computing and Graphics Business Group, AMD
Soft carrying case with shoulder straps
Rolling transit case with telescoping handle and wheels
Rugged hard case for secure transportation in challenging environments
Learn more...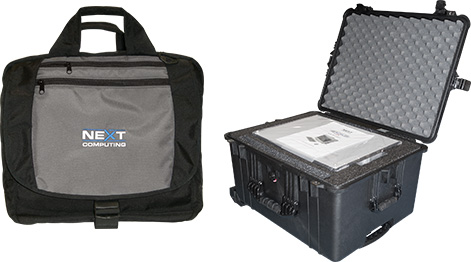 System Specs
CPU

AMD Ryzen™ Threadripper™ 1950X 16-core 3.5GHz single processor including liquid cooling 

Memory

Up to 128GB DDR4 2133MHz RAM

PCI Expansion
Up to (7) full-length, full-height PCI Express 3.0 slots
Removable Storage
Up to (16) internal, no-tools removable SATA, SAS, or Solid State hard drives
Fixed Storage
Up to (2) fixed SATA, SAS, or Solid State hard drives
Available Drive Capacities / Features

SATA up to 2TB each
SAS up to 2TB each (10K RPM up to 1.8TB each)
Solid State Drives up to 4TB each
Encryption options available

RAID
Onboard SATA RAID 0/1/5/10, or via add-on PCIe RAID controller
Optical Drive
Internal DVD±RW or Blu-Ray RW
Display
Integrated 17.3" (439.42mm) LED LCD (1920×1080)
Operating Systems

Windows 2012 and 2016 server, Windows 7 Pro/Ultimate, and Windows 8.1 Pro/Ultimate, Windows 10 Professional
CentOS, Red Hat and other Linux distributions.
VMware vSphere Hypervisor (ESXi) and other virtualization environments

Power Options

1300W power: load sharing (2x 650W PSUs) or redundant (2+1 auto-switching) with your choice of 110/220V 50/60Hz AC power or 48V DC input
650W power: 1+1 redundant with input for either 110/220V 50/60Hz AC auto-switching or 48V DC
Dual 650W power supplies – 50/60Hz 48V DC input and 110/220V AC input

Physical
7.22″ (183.39mm) D  x  16.95″ (430.53mm) W  x  16.39″ (416.31mm) H (not including folded-down handle)
Cases
Optional soft case, rugged case, or rolling transit cases available
Warranty
1 year parts and labor