Take Server Performance On The Go -
In The Field, To The Network Edge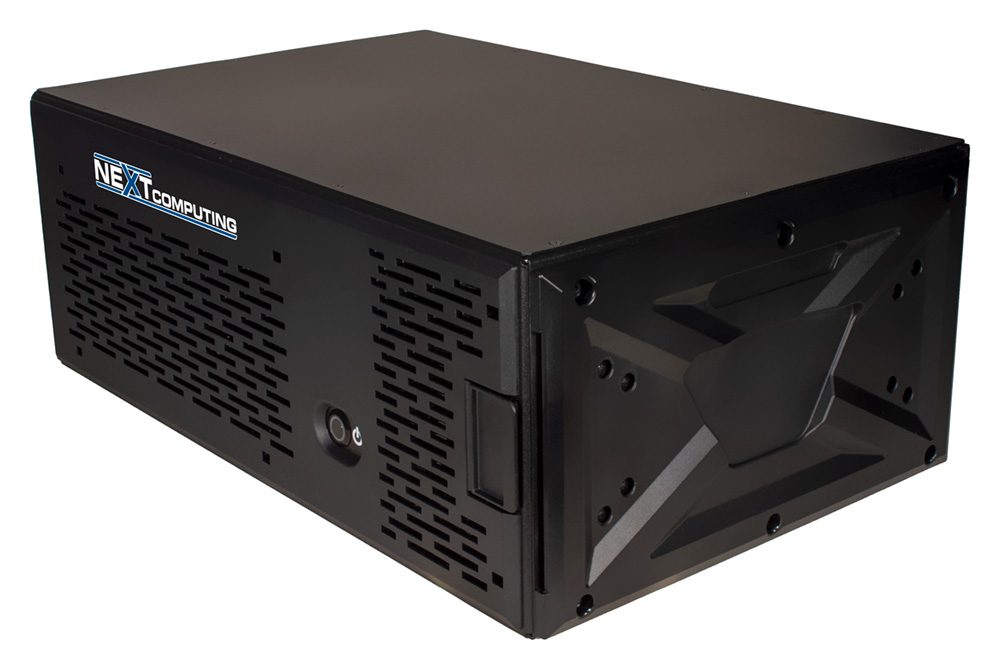 Smallest Form Factor, Highest Performance

Utilize as a desktop system or versatile short-depth rack server

Easily Transportable

System and hard case combined are less than 35lbs for single-person lift and TSA compliant carry-on

Modular and purpose-built

Configure your power, storage, and expansion options for your specific high-performance use case

As a high-performance server

Ideal for cyber analytics, data analytics, network forensics and data recording

As a high-performance workstation

Ideal for rendering and scientific simulation

Application Support

We work directly with our customers every day to ensure that our computers meet their unique requirements
NextServer-X for Cisco UCS
NextServer-X is an ideal deployable solution both for packet capture and to run other Cisco Security Suite apps on the network edge.
Click here to learn more!
NextServer-X for Fly-away Kits
The NextServer-X deployable server is an integral part of Garland Technology Fly-away Kits for Cyber Operations.
Click here to learn more!
The intelligent, compact design of the NextServer-X allows for both easy transport and expandability. Whether you need cyber analytics in the field, or the flexibility to grow your toolset with your changing needs, the NextServer-X deployable server lets you bring your server applications to the network edge.
Single or dual Intel processors, or AMD EPYC processors
No-tools removable storage includes up to (6) NVME, (8) SAS/SATA SSDs, and (2) SATA 6G SSDs
Includes Secure Boot UEFI compliant BIOS, Intel Boot Guard, TPM2.0 trusted Platform
IPMI with HTML5 support, IPMI client can select on-time boot option on next reboot, IPMI client displays MAC address for all network interface cards, can PXE boot from X710 NIC
Certified for CentOS, Red Hat Enterprise Linux, VMware vSphere, Windows 2019 server, Windows 10
PCI Express 3.0 and 4.0 expansion slots for purpose-built I-O configurations and FPGA or GPU co-processing
Systems are stackable, cooling front to back
Includes service and maintenance documents for easy field access, service, and installation of PCIe cards
Compliant with the NextComputing Supply Chain Risk Management Process
Small form-factor, TSA carry-on transportable server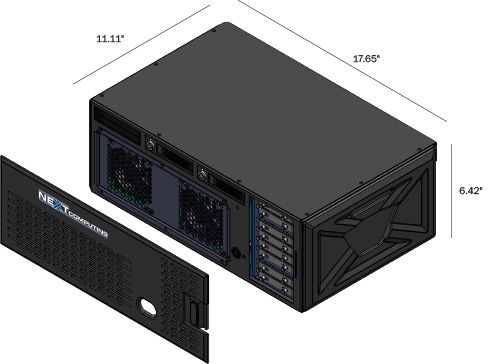 (Click images to enlarge)
System Specs
Available CPUs

Standard

Single Intel Xeon Platinum 18-core processor
AMD EPYC™ Rome or Milan Processor (16-32 cores)

High-Performance

Dual Intel Xeon Platinum 22-core processor
AMD EPYC™ Rome or Milan Processor (48-64 cores)

Memory

Standard

256GB DDR4 ECC RAM to 512GB DDR4 2666MHz/3200MHz ECC RAM

High-Performance

512GB DDR4  ECC RAM to 1TB DDR4 2666MHz/3200 MHz ECC RAM

PCI Expansion

Intel-based configurations: (6 or 7) PCI Express 3.0 and 4.0 slots
AMD-based configurations: (7) PCI Express 3.0 and 4.0 slots

Note:

PCI Express cards to ¾ length cards or 9" length.
Full height cards slot availability dependent on NVME storage options installed
If both NVME removable drives installed full height boards in slots 2,3 and 7 only
No configuration restriction with half height cards

AI
Configurations available with up to (5) NVIDIA A2 Tensor Core GPU for Artificial Intelligence (AI)/machine learning at the Edge
Storage
Removable Drive Bays for up to (8) 12G SAS/ 6G SATA 2.5" drives,  up to (6) NVME 2.5" drives, and up to (2) 6G SATA to 9mm drives
RAID

(8) port NVME/SAS/SATA 12G LSI 9460-8i PCI Express RAID controller
(8) port SAS/SATA 12G LSI 9361-8i PCI Express RAID controller
(4) port NVME HBA controller to support up to (4) removable U.2 NVMe SSD drives. Additional (2) motherboard Oculink NVMe interfaces

Sustained Writes

NVME to 3.5GB/second per drive (up to 6 drives total)
12G SAS RAID 5 of 8 drives sustained at 6.3 GB Reads and 3.7 GB Writes
6G SATA RAID 5 of 8 drives sustained 2.8 GB Reads / 2.6 GB Writes

Sustained Reads

NVME to 3.5GB/second per drive (up to 6 drives total)

Ethernet
(1) Intel X710 Quad-Port 10G Ethernet PCI Express card with SFP+SR or SFP+ 1G/10G copper pre-installed. 2x1G or 2x10G RJ45 direct on motherboard. Option for multiple 4x1G, 4x10G, 1x100G, 2x100G, 2x40G NIC and other network cards
Security
Secure Boot UEFI compliant BIOS, Boot Guard, TPM2.0
Remote Management
IPMI, HTML5 and API based out of band management with MAC addresses identification, one time boot on next reboot option, PXE boot option, Redfish compatible Out of Band (OBB) management connection
Operating Systems

Red Hat and CentOS Enterprise Linux
VMWare vSphere
Windows 2019 server, Windows 10

Environmental

0°C–40°C / 32°F–104°F. Non-Operating: -20°C–70°C, -4°F–158°F.
Relative humidity (5-95%) non-condensing
FCC Class A, CE, TUV, ROHS, Conflict Minerals Free

Power
750W 80 PLUS Titanium 110/220V 50/60HZ autoswitching
Physical
6.42" H x 17.65" W x 11.11" D. Complete solution including TSA carry-on compliant hard case range from 30 lbs to 45lbs typically (single person lift)
Carrying Case
Includes TSA-carry-on compliant rugged transit case with telescoping handle & wheels: 9.0" H x 21.89" W x 13.96" D
Warranty
1 year parts and labor. 2nd and 3rd year warranty options
Ease of Service and Upgrade
All storage is removable without tools. Easy access for install and removal of PCI Express cards. Easy to service other system elements. Modular design
Purpose-Built Solutions
Private label branding options. Purpose built application integration and configuration control management services.