PORTABLE POWERHOUSE WITH A UNIQUE, PROFESSIONAL IMAGE
The Edge P100 all-in-one (AIO) portable computer provides workstation-class performance for innovative creative professionals on the go. The system is even thinner than the T100, accommodates high end processing and graphics, with a beautiful 17″ 1920×1200 integrated HD display. The Edge P100 is small enough to take on board an airplane, ideal for client demos, offsite development, telecommuting and trade shows.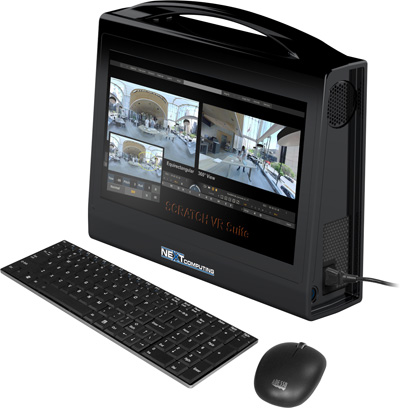 Thin, Lightweight Design

Briefcase-like form factor with integrated 17.3″ Full HD display

Incredible Processing Power

Workstation-class processors from Intel and AMD. Configurations include high CPU core count to 64 cores for 3D rendering of images and animations, encoding videos, and Elastic/Kibana data visualization use cases and fast CPU clock speeds for 3D modeling use cases.

PCI Express Expansion

Support for 2 full-size PCI Express cards (or one dual-slot card) including high-performance NVIDIA GPUs for graphics or AI workflows and machine learning optimized performance
Extensive Storage

Hot-swap hand-removable storage with options for onboard SATA RAID 0/1/5/10 or via add-in PCIe RAID controller

Easy Transportation

Includes carrying case for system and accessories. Optional rugged transport cases also available

Application Support

We work directly with our customers every day to ensure that our computers meet their unique requirements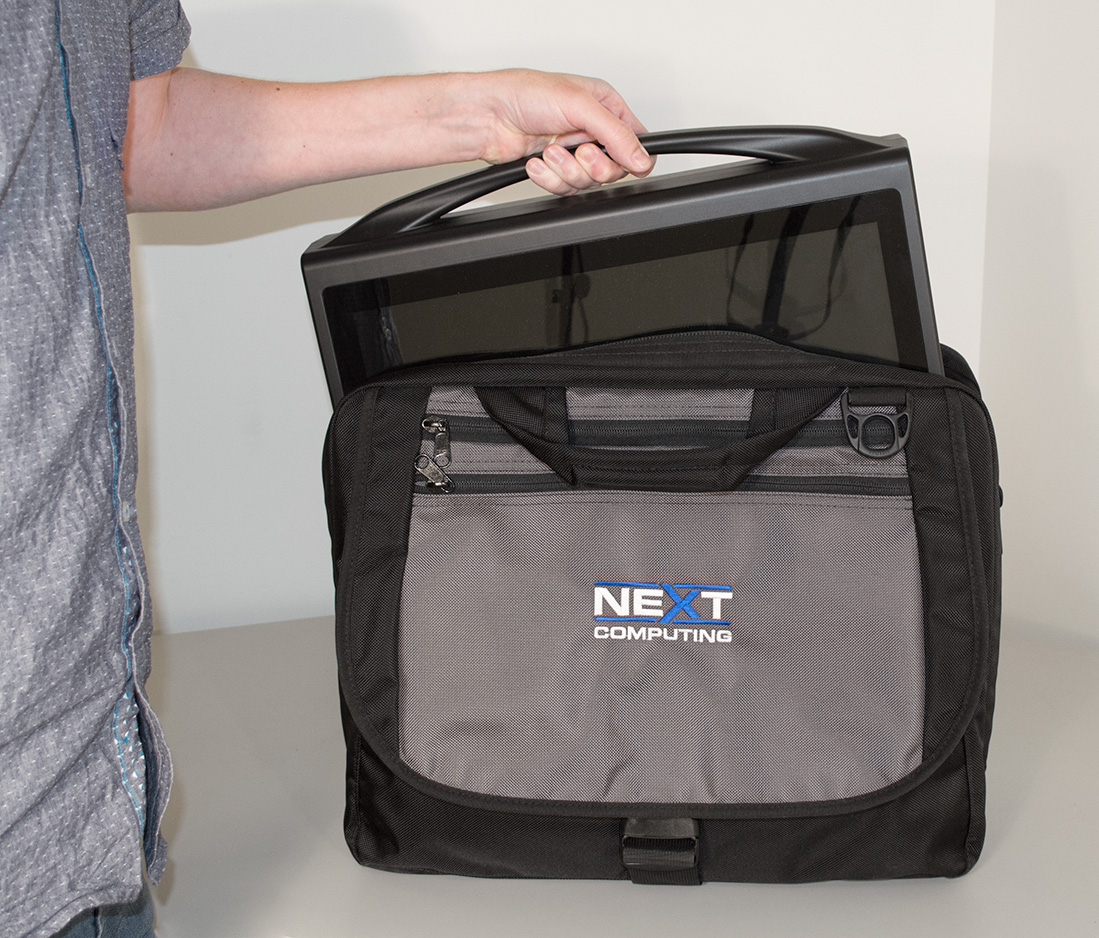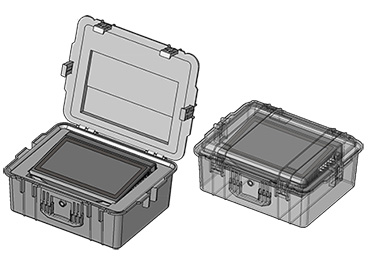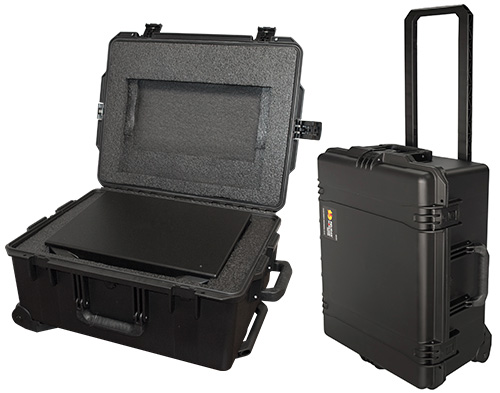 Full Size Rugged Case
Large rugged case with wheels and telescoping handle
Internal foam cutout snugly holds the Edge, as well as spaces for additional accessories
Can be checked as baggage, while giving you peace of mind that your system is safe
Exterior dimensions (L X W X D) – 24.60″ x 19.70″ x 11.70″ (62.5 x 50 x 29.7 cm)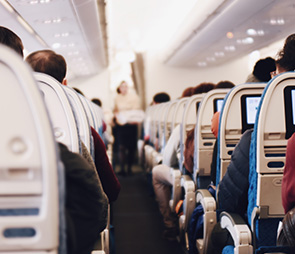 TSA Compliant
Avoid additional costs for checked baggage over 50lbs. with a variety of Edge P100 travel options:
Edge P100 with accessories and soft case is ~24lbs (depending on configuration) and small enough to be a TSA-compliant airline carry-on (19" x 16" x 6.75").
TSA-compliant rugged case and system are ~39lbs (depending on configuration) and 24.60" x 19.70" x 11.70", which can be checked as luggage without worry about damage.
The Edge P100 within the compact rugged case is viable for both checked or carry-on baggage (~34lbs., 24.40" x 19.40" x 8.80")
Solution, Engineering, and Integration Services
NextComputing offers services for solution success and fast time to market or deployment. Outsource tasks and let NextComputing handle processes that are not core to your business so you can focus on what you do best.
See our Services section for a complete look at how we can build, brand, validate, and maintain the perfect appliance for you or your customers.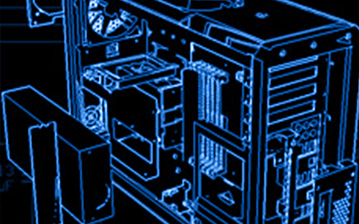 Reduce Costs

Contain soft costs with an appliance solution validated by us

Generate New Products

Quickly deploy a variety of turnkey solutions based on a common architecture

Save Time

Let us handle configuration management for updates or branching out to new products

Extend Your Brand

Put your logo on the system to create your own branded product

And Much More!
Display
Integrated 17.3" (439.42 mm) LED LCD (1920x1080) with scratch-resistant glass
Available CPUs

The following processors utilize silent liquid cooling:

Single Intel® Core™ X Series ("Skylake X") i7 7820X, i9 7900X, i9 7920X
Single 9th or 8th Generation Intel® Core™ Processor
Single Intel® Xeon W-2145 8-cores (16 threads)
Single AMD Ryzen 7 2700X 8-cores (16 threads)

The following processors utilize air cooling:

Single AMD 2nd generation EPYC™ 7002 Series Processors to 64 Cores
Single  processor Intel Xeon Gold  6144 to  Platinum 8180 processors from 8-cores (16 threads)  to 24 Cores (48 Threads) per processor

Memory

With Intel Core Series: Up to 64GB
With AMD Ryzen 7: Up to 64GB
With Intel Xeon W series: Up to 512GB
With AMD EPYC series: Up to 512GB

Motherboards

Intel Z370 (ATX)
Intel C422 (CEB)
AMD X470 (ATX)

Cooling

All motherboards feature acoustically quiet system/PSU fans

PCI Expansion
(1) dual-slot or (2) single-slot PCI Express 3.0 x16 cards, up to 10.5" (266.7mm) in length
AI
Configurations available with (1) NVIDIA A2 Tensor Core GPU for Artificial Intelligence (AI)/machine learning at the Edge
GPUs

Single-width or dual-width PNY NVIDIA GPU card options available, up to 10.5" card length

Storage

(1) M.2 PCIe Gen3 NVMe OS/application SSD for fast boot and load, up to 7.68TB
Upgrade Options (Motherboard dependent. Ask a NextComputing Sales Engineer):

Up to (2) additional M.2 SSDs up to 7.68TB each
Up to (2) internal 2.5" 9.5mm SSDs up to 7.68TB 6G SATA or 15.36TB 12G SAS each

RAID
Options for onboard SATA RAID 0/1/5/10, or via add-on PCIe RAID controller. Ask a NextComputing Sales Engineer
Operating Systems

Windows 10 64-Bit Pro
Additional OSs available: Windows Server, CentOS, Red Hat and other Linux distributions, VMWare vSphere

Power
650W SFX 80 PLUS Gold certified fully modular power supply; 90- 264V, 47-63Hz auto-switching
Physical

4.30" (109.22mm) D x 17.33" (440.18mm) W x 14.76" (374.9mm) H
15-18 lbs. (depending on configuration)
Operating temp: 0-30° C

Carrying Cases

Includes soft carrying case
Optional hardened case and rolling transit case available

Warranty
3 year parts and labor