lightweight, briefcase-sized system designed for professional users who need more power and flexibility than a notebook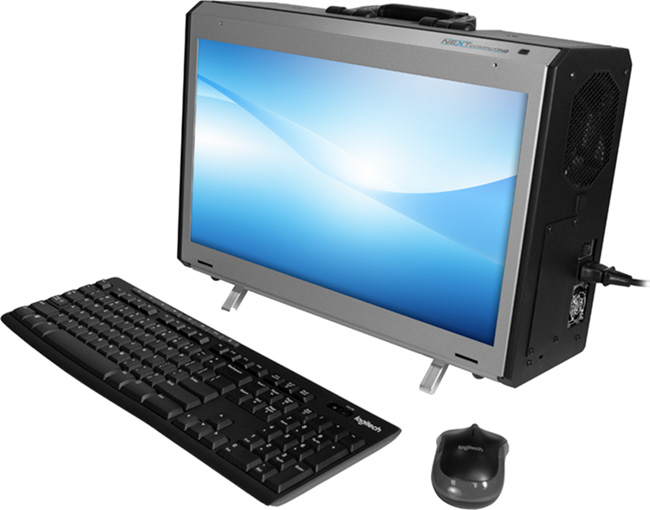 Unique Design

High-end desktop performance in a compact, briefcase-sized package for easy transport

Workstation-Class Performance

Configurations available with Intel Xeon or Intel Core i7 and up to 64GB RAM

PCI Express Expansion

Support for 4 full-size PCI expansion cards (or multiple dual-slot cards) including graphics cards from NVIDIA and AMD

Extensive Storage

Up to 6 hand-removable hard drives, up to 4TB each. Onboard SATA RAID 0/1/5/10 or via add-in PCIe RAID controller

Easy Transportation

Includes carrying case for system and accessories. Optional rugged transport cases also available

Application Support

We work directly with our customers every day to ensure that our computers meet their unique requirements
Within a very small, lightweight, portable footprint, the Radius enables high-performance, application specific appliance and service solutions.
Radius is ideal for processing digital video workflows on-location at live events, for off-site data capture in test and measurement applications, and remote development and demonstration of high-end software, just to name a few applications.
The Radius features the latest technology combined with our completely expandable and modular system design. Unlike any notebook, with the Radius you can easily integrate off-the-shelf PCI and PCI Express expansion cards, as well as upgrade storage, memory, and processors as new technology arrives.
Optional Equipment
Lightweight, portable display
Rolling transit case with telescoping handle and wheels
Rugged hard case (MIL-STD-2073)
Secure wireless keyboard with integrated trackball
External battery pack
System Specs
Available CPUs
Single Intel® Xeon or single Intel® Core­™ i7
Memory
Up to 64GB DDR4 2133MHz RAM
PCI Expansion
Up to (3) full-length PCI Express 3.0 slots and (1) or more PCI Express 2.0 slots
Storage

Up to (6) removable 2.5" hard drives -or-
Up to (6) internal, fixed 2.5" hard drives
Optional drive encryption

Available Drive Capacities / Features

SATA up to 2TB each
SAS up to 2TB each (10K RPM up to 1.8TB each)
Solid State Drives up to 4TB each
Encryption options available

RAID
Onboard SATA RAID 0/1/5/10, or via add-on PCIe RAID controller
Optical Drive
Internal DVD±RW or Blu-Ray RW
Display

Integrated 17.3" LED LCD with optional capacitive touchscreen (1920×1080)
Support for external displays including NextComputing's specially designed clip-on displays

Operating Systems

Windows 2012 and 2016 server, Windows 7 Pro/Ultimate, Windows 8.1 Pro/Ultimate, and Windows 10 Pro
CentOS, Red Hat and other Linux distributions
VMware vSphere Hypervisor (ESXi) and other virtualization environments

Power

460W or 700W 110/220V 50/60Hz auto-switching 80 PLUS rated power supply
Optional internal 460W/24V DC nominal (19V-36V DC range) power supply

Environmental
Based on typical configurations. Custom configuration results may vary:

Relative humidity (5-95%) non-condensing
Operating: 5°C–40°C / 41°F–104°F.  Non-Operating: -20°C–70°C, -4°F–158°F

Regulations
FCC Class A, and CE. Certified TUV
Physical

Width: 16.76″ (425.7mm) x Height (including folded-down handle): 12.38″ (314.45mm) x Depth: 6.06″ (153.92mm)
Basic configuration ~15lbs.

Carrying Cases

System includes soft carrying case
Optional rolling soft case or rugged hard case available

Warranty
1 year parts and labor