High-performance, portable solutions for on-site customer demonstrations and off site training
You want to show customers and prospects your organization's latest, complex software application. And you know that in order to make the sale your clients will want to see your software in person performing to its fullest capabilities. Unfortunately, even the most powerful notebook will fall short on performance, which can undermine your demo and potential sale.
What if you could shrink down the powerful desktop workstations in your lab, pack them into a briefcase, and get on a plane with all the hardware, software and networking capability you need? Now you can with NextComputing. For the first time, enterprise independent software vendors have the powerful, portable and flexible computing solutions they need to bring the power of a data center to customer locations.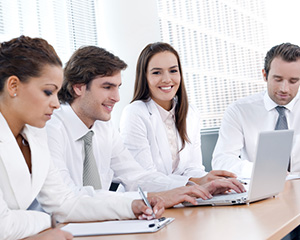 Use NextComputing Solutions For
If you produce advanced software applications you are probably frustrated by the sluggish performance from high-end notebooks when it comes to customer demonstrations. With NextComputing you can now show all of your innovations in their best light because you can have the power of a desktop workstation in an attractive, high-performance portable. Because all of our solutions can be customized with stylish cases and customer logos — in addition to high-end graphics cards, storage, processors and other components — you can create the ideal system that builds your brand and wows your customers every time.

Internet-based training is an option for some organizations, but not if your software application requires a significant amount of computing power. And in many cases it's not cost effective or convenient for staff or customers to travel to a training location. Now you can bring the training to their location using our portable high performance systems and servers. Even better, you won't have to deal with the challenges of shipping a traditional training server from site to site.


Explore our product lines to learn more, or contact us to speak directly to a Sales Engineer about your specific needs.