Manufacturing
ODM / OEM Appliances
Your brand, software, concept, design / build team;
our perfect appliance solution.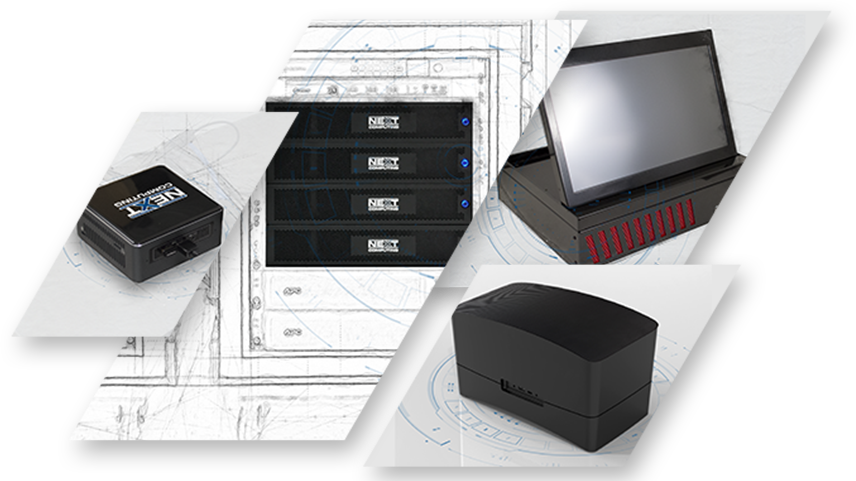 We understand the challenges faced by technology providers to build their solutions from concept to ready-to-ship product. For original equipment manufacturers (OEMs), original design manufacturers (ODMs), software developers (ISVs) and service providers, NextComputing offers services to bring your vision to life.
At NextComputing, we custom design/build hardware system solutions with optimized performance and fast time to market across a wide range of industries. We have years of experience in designing, deploying and managing under configuration control complete custom appliances to turn your solution into a performance optimized, purpose built appliance or product family

Original Equipment Manufacturers

Are you looking for a completely new high-performance computing platform designed for your specific requirements? Let NextComputing build your solution with top-of-the-line components and in a form factor unique to you. We'll work with you every step of the way from concept to engineering to manufacturing.
NextComputing offers expert OEM services for enterprise / workstation-class computing and custom I/O across many industries. Whether you want to provide your customers with compact, all-in-one tools for live streaming video from any location, or you need a proprietary fly-away kit for your specific network security needs, we will work with you to build your perfect solution.
Original Design Manufacturer

With a wide variety of high-performance configurations in a range of form factors, NextComputing may already have the perfect solution to meet the needs of your business or your customers. In these cases, we offer original design manufacturer (ODM) or "private labeling," services to integrate your brand.
Parts can be customized with high-quality silkscreens featuring your logo or custom I/O labels for ease of use.
Paint colors on parts or entire chassis can be changed to match your brand guidelines.
Carrying bags can be stitched with your logo, and rugged travel cases can be labeled with your brand for a consistent visual identity.
Optimized Appliance Solutions
Hardware solutions and services for software developers,
service providers and government contractors
For software developers (ISVs) and service providers, NextComputing offers services to match a wide range of needs:
If you have a requirement from 50 to 2000 purpose built appliances, whose requirements are workstation or server class capabilities but with an application specific use
If you need something that is more consistent with what you want your brand to be
If you want to focus your resources on your software or your services and your customers
If your are struggling to get more performance out of your software or open source applications due to system limitations
If you want to reduce engineering costs, eliminate or reduce internal production cost overheads, outsource some of your systems engineering, outsource some of your mechanical engineering, move away from in-house fulfillment services, become more nimble in your market, improve cash flow, go to market more quickly, or reduce inventory problems
If any or all of these apply to you, please review the following list of capabilities and contact us to discuss what NextComputing can offer you.
No Minimum volume requirements
Private labeling of system and bag


Configuration control management for your configurations including BIOS and OS changes and settings, software application installation / testing / tuning and revision control, 3rd party I-O card and management


Acoustic noise tuning based on your needs


Customization of rugged travel cases for specific accessories


Integration of your specific I-O cards and software
For OEMs, ISVs, and integrators selling a service/ appliance
Roadmap/EOL management


Product platform engineering services


Drop shipments and branded packing slips


Full 2nd level technical support of 3rd party or customer products


Logistics services to re-image/re-fresh systems


Create/maintain ISO image for your OS/application and recovery disks


Systems engineering services to optimize application(s) for best performance


At certain minimum volumes
Platform customization such as specific hardware integration and chassis color/branding


Certification services (CE, safety, emissions)


Thermal testing


Vibration and drop testing


Electrical design/build services of I-O or other circuit boards


Customized marketing collateral and branded service/setup documentation


Systems engineering, production, and service/support so you can optionally go virtual with no-touch on the hardware to reduce costs and increase operating margins