Sleek, Portable Powerhouse for Demanding Applications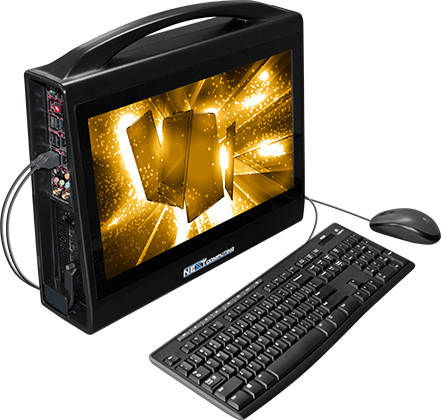 Thin, Lightweight Design

Briefcase-like form factor with integrated 17.3″ Full HD display

Workstation-Class Performance

Configurations available with Intel Xeon or Intel Core i7 and up to 256GB RAM

PCI Express Expansion

Support for 2 full-size PCI Express cards (or one dual-slot card) including graphics cards from NVIDIA and AMD

Extensive Storage

Up to 4 internal Solid State Drives, up to 4TB each, or dual hot-swap hand-removable storage. Onboard SATA RAID 0/1/5/10 or via add-in PCIe RAID controller

Easy Transportation

Includes carrying case for system and accessories. Optional rugged transport cases also available

Application Support

We work directly with our customers every day to ensure that our computers meet their unique requirements
Do your or your customers work with large, complex datasets?
Are you required to travel for your business and need to take your projects with you?
Do mobile workstation laptops give up too much computing speed for the sake of portability?
The Radius Edge is a sleek, all-in-one, portable workstation that delivers powerful performance and a professional image for you and your customers. It combines engineering-class workstation computing with a thin, low-profile chassis. Whether you need to work remotely with partners or clients, or you need maximum performance in a minimum of space, the Radius Edge blows any laptop out of the water, and outperforms many larger tower systems.
The Radius Edge can be configured for a variety of demanding applications
High-performance software development; as host and as target platform (via virtualization or on a CUDA- or FPGA-based co-processor card)
VMware vSphere-based application virtualization platform
Mobile server
Medical and scientific simulation and visualization
Mobile professional application training
Complex imagery, 3D, and large datasets processing
Product and proof-of-concept demos
The Radius Edge is an all-in-one, portable workstation powerful enough to be your primary workhorse PC, yet lightweight enough to take it anywhere you need it.
System Specs
Available CPUs
Single Intel® Xeon or single Intel® Core­™ i7
Memory
Up to 256GB DDR4 2133MHz RAM
PCI Expansion
(1) dual-slot or (2) single-slot PCI Express 3.0 x16 cards, up to 10.5" (266.7mm) in length
Storage

Up to (4) fixed internal Solid State Drives, up to 4TB each, depending on configuration

Additional Options:

Up to (2) removable Solid State Drives, up to 4TB each, depending on configuration
Additional external USB storage devices

RAID
Onboard SATA RAID 0/1/5/10, or via add-on PCIe RAID controller
Display
Integrated 17.3" (439.42 mm) LED LCD (1920×1080) with scratch-resistant glass
Operating Systems

Windows 2012 and 2016 server, Windows 7 Pro/Ultimate, and Windows 8.1 Pro/Ultimate, Windows 10 Professional
CentOS, Red Hat and other Linux distributions.
VMware vSphere Hypervisor (ESXi) and other virtualization environments

Power
600W 110/220V, 50/60Hz auto-switching 80 PLUS rated power supply
Physical
4.30" (109.22mm) D x 17.33" (440.18mm) W x 14.76" (374.9mm) H, 15-18 lbs. (depending on configuration)
Operating temp: 0-30° C
Carrying Cases

Includes soft carrying case
Optional hardened case and rolling transit case available

Configuration Options

Integration of customer-specified I-O cards and graphics cards
Unlisted processor, storage, memory, PCI Express IO cards, and operating systems may be available on discussion

Warranty
1 year parts and labor