Massive, Flexible Storage Configurations
Extensive storage options are part of what make NextComputing systems the unique powerhouses that they are. Each system features a variety of options for fixed and no-tools, hot-swappable Solid State Drives in a range of capacities for any task.
NextComputing offers a range of storage configurations featuring fast, reliable, high-endurance drives, including the latest blazing fast solid state models. Further enhance your configuration with optional drive encryption, enterprise-class RAID, and NextComputing's unique no-tools removable drives for high-demand applications such as:
Data streaming and playback: NextComputing portable systems and high-density rackmounts feature incredible combined read/write speeds and limitless capacity with swappable drives. There's no need to sacrifice performance because of workspace limitations or the need for portability.
Virtualization: Utilizing multiple, swappable hard drives, create an array of virtual system configurations for development and testing.
Data recording: utilize NextComputing's massively scalable architecture to get the speed and storage you need for lossless data capture and fast query retrieval. To learn more about our packet capture systems, visit PacketContinuum.NextComputing.com.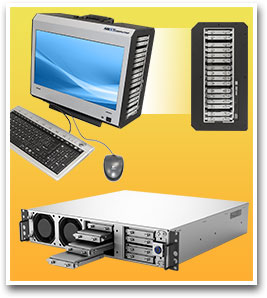 Limitless Storage Possibilities
Whether you're an end-user in need of a high-density system, or an OEM looking to provide one-of-a-kind storage solutions, NextComputing has you covered.
Our unique OEM services include custom branding, software loading and testing, integration of 3rd party PCI Express I-O cards, configuration control management, full appliance design and NPI validation, consignment and logistics release management, and roadmap management among other services offered ala carte to meet your specific needs. Click here to find out how NextComputing can help you create new innovative solutions for your customer base.