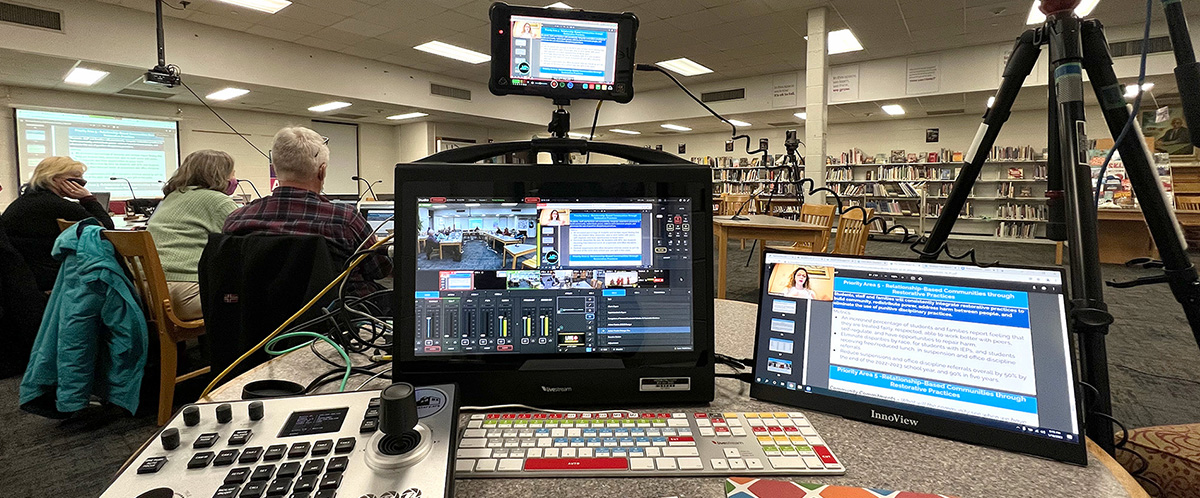 Vermont-based Media Factory is a public access cable center that focuses on free and open media, civic engagement and government transparency to ensure that their communities are informed, connected and resilient. They stream around 30 local municipal meetings each month which go live to their web page, to Facebook and to their cable channel.
Meetings are streamed via a live-switched three-camera setup with lower thirds and title graphics as well as an audio mix of 8-10 microphones. As most meetings are now hybrid format, this also means integrating Zoom participants into the video stream, adding another layer of complexity.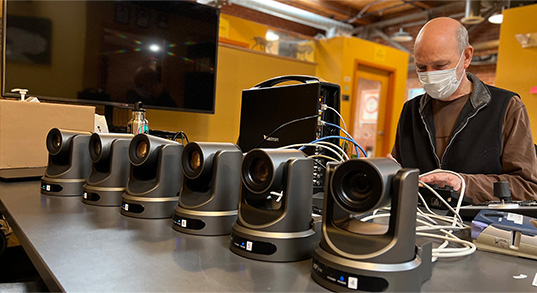 Setup and operation of these productions is handled by a single field producer, so streamlining the process and optimizing the location equipment packages has been essential to Media Factory's high-quality presentations.
According to Ken French, Municipal Services Manager at the Media Factory, "We don't have huge budgets for meeting coverage so we needed a production package that could be easily set up and operated by a single field producer, but still have advanced features like PTZ control, graphics compositing, audio processing, SDI and NDI inputs."
This is where compact, high-performance Livestream Studio HD550 streaming systems from NextComputing have become a key part of their workflow.
Three Livestream Studio HD550s are part of Media Factory's location equipment package. They help streamline their productions in several ways:
The briefcase-like design and integrated display of the HD550 eliminates the need for a separate monitor for the system and a clunky control surface for the switcher, simplifying transportation and setup.
While the display of the HD550 is used to control the production, a second desktop monitor is connected to the system as an input to capture the Zoom meeting, eliminating the need to set up a second computer. Additionally, the second LCD fits within the HD550 travel bag, making for easier transportation.
The built-in NDI (Network Device Interface) of the HD550 is used to connect to a number of PTZ Optics remote cameras. These are smaller, lighter and more capable than camcorders and can connect via a single ethernet cable. Media Factory has tested six of these cameras simultaneously with the HD550.
The built-in NDI output can be used to send the program to the participant's laptop, providing high quality audio and video inputs for their Zoom meetings.
Live streaming production tools are never one size fits all. NextComputing works with customers like Media Factory to maintain systems and upgrade existing ones to ensure that they always have the optimal tools for the job at hand.
The end result is a more manageable equipment package, easier setup, and a service roadmap that allows Media Factory's crew to focus on producing the kind of high-quality work that increases civic engagement and education.