Cinema 4D offers incredible features to allow your creativity to flow freely so you can deliver your best work. And as a professional 3D artist you know that the speed of your workstation can directly impact your ability meet deadlines and satisfy clients.
But if you've ever had to work remotely, for instance to collaborate with customers or perform freelance work on-site, then you have may have already sacrificed your productivity in order to work on a laptop. Or if you have avoided taking on remote projects or on-site client reviews because you can't live with the performance penalties of a laptop, you may be passing up opportunities to grow your business.
Radius Edge – Workstation Power, Briefcase Size
The Radius Edge solves these problems by merging the best of both worlds – a true desktop-level high-performance workstation in a portable form-factor. This system features the same multi-core processors, large amounts of memory expansion, and high-end graphics cards you expect from a professional workstation, all in a briefcase-sized package weighing less than 20 lbs.
You no longer need to sacrifice productivity for portability or try to transport your full-sized workstation to another location. The system fits neatly in its included carrying case, ready to take with you anywhere, and easily stows in the overhead compartment of most commercial planes.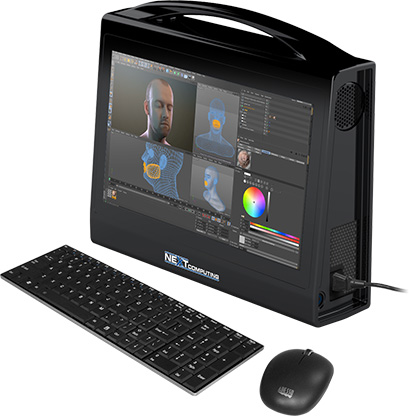 [Best_Wordpress_Gallery id="33″ gal_title="Radius Edge"]
Power through the most complex scenes with ease, taking advantage of the Radius Edge's fast Intel Xeon processors, NVIDIA GPU-accelerated rendering, and fast SSD storage. The Radius Edge can be configured with up to 256GB RAM, making complex workflows of multiple applications, including Adobe Premiere and After Effects, fast and fluid.
Accelerate your rendering with NVIDIA iray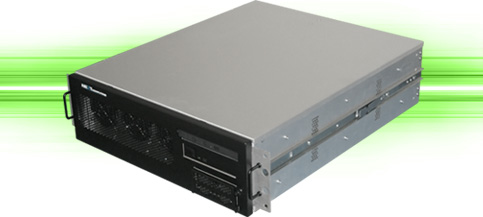 NextComputing also offers NVIDIA Iray Certified Rendering Systems which maximize the performance of NVIDIA's Iray interactive physically based rendering technology. Iray is available as a desktop plugin for Cinema 4D and as Iray Server, a GPU-accelerated rendering engine running on NextComputing's certified rackmount appliances.
Iray Server speeds up your creativity by extending the rendering process to a networked server and streaming the results back as you manipulate your scene. Any client workstation with the NVIDIA Iray plugin for Cinema 4D can harness the additional rendering power of Iray Server, even across a remote network.
Available CPUs
Single Intel® Xeon or single Intel® Core­™ i7
Memory
Up to 256GB DDR4 2133MHz RAM
PCI Expansion
(1) dual-slot or (2) single-slot PCI Express 3.0 x16 cards, up to 10.5" (266.7mm) in length
Storage

Up to (4) fixed internal Solid State Drives, up to 4TB each, depending on configuration

Additional Options:

Up to (2) removable Solid State Drives, up to 4TB each, depending on configuration
Additional external USB storage devices

RAID
Onboard SATA RAID 0/1/5/10, or via add-on PCIe RAID controller
Display
Integrated 17.3" (439.42 mm) LED LCD (1920×1080) with scratch-resistant glass
Operating Systems

Windows Server, Windows, Windows 10 Professional
CentOS, Red Hat and other Linux distributions.
VMware vSphere Hypervisor (ESXi) and other virtualization environments

Power
600W 110/220V, 50/60Hz auto-switching 80 PLUS rated power supply
Physical
4.30" (109.22mm) D x 17.33" (440.18mm) W x 14.76" (374.9mm) H, 15-18 lbs. (depending on configuration)
Operating temp: 0-30° C
Carrying Cases

Includes soft carrying case
Optional hardened case and rolling transit case available

Configuration Options

Integration of customer-specified I-O cards and graphics cards
Unlisted processor, storage, memory, PCI Express IO cards, and operating systems may be available on discussion

Warranty
1 year parts and labor