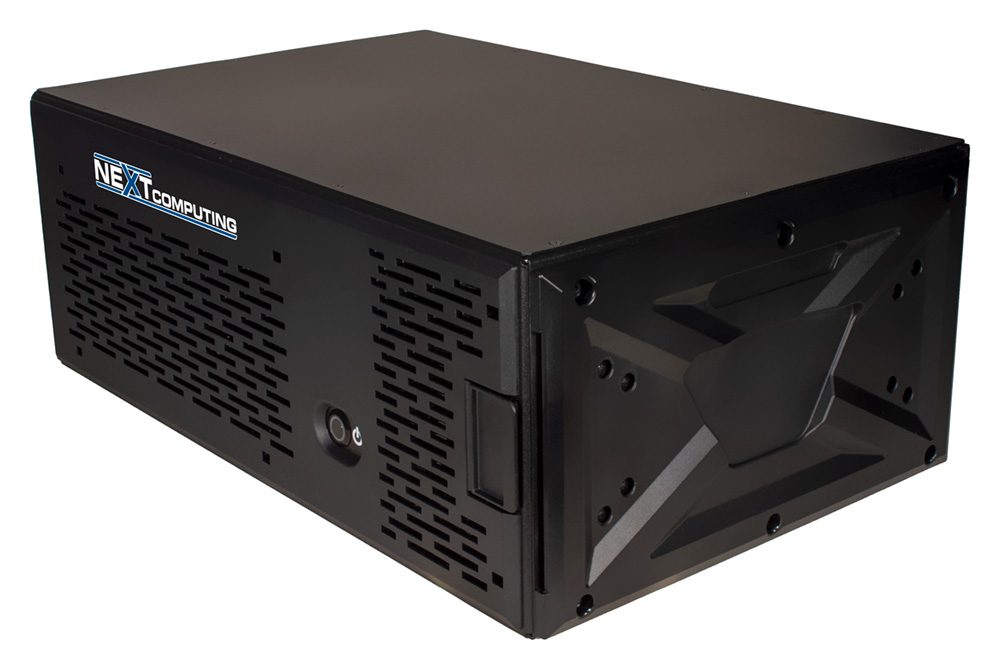 NextComputing, designers of highest-performance, purpose-built, performance-tuned and integrated workstations for data scientists, researchers, developers, and creative professionals, is proud to introduce the NextStation-X. This new system is designed for use as either a short-depth rackmount or a small-footprint portable workstation. It features up to 64 processor cores (128 Hyper threads), 1TB memory, PCI Express 3.0 slots to support (1) or (2) dual-wide NVIDIA Quadro and GeForce GPUs, high-performance NVMe SSDs with fast data access to 3.2GB+/second, and high-speed network interfaces.
The NextStation-X is a short-depth (12"), modular, purpose-built workstation ideal for any space-constrained use case with demanding performance requirements. Whether used as a rackmount system or deployable workstation, the NextStation-X is perfect for use cases including:
As a data science workstation for scientists to run end-to-end processing pipelines on large data sets faster than ever
For on-premises Artificial Intelligence (AI) and deep learning research, enabling immense progress in all kinds of emerging markets
For AI processing and visualization solutions at the edge of the network enabling AI and cloud native applications, IoT and its billions of sensors, and 5G networking to make large-scale AI at the edge possible
As deep learning workstation solution to unlock high-performance AI supercomputing from your desktop and on the go
Enable deep learning training from the desktop at the network edge or in the field or event
For DIT, color grading, animation, rendering, simulation, as well as modeling on-set, at postproduction, and at the live event or in the broadcast truck
For 3D CAD modeling, seismic analysis of O&G data, and collaboration on site, at the facility or on location
For military, intelligence and first responders requiring workstation-level performance to be transportable and operational on a rapid response basis

Key Features of the NextStation-X include:
Smallest form factor, highest performance: as a desktop or short-depth rack mount
Easily transportable: system and hard case with telescoping handle and wheels combined are less than 35lbs for single-person lift and airline carry-on
Modular and purpose-built: for your-high performance workstation use case
High-performance processors (clock and cores): AMD EPYC 64-core processor and Intel Core i7, Core i9, or Xeon scalable processors
Ultra-fast removable storage: U.2/NVMe or 12G SAS and 6G SATA SSDs
NVIDIA Quadro and GeForce GPUs: (1) or (2) dual-wide GPUs
High-speed network interfaces including multiple 25G, 10G, 1G options and remote IPMI management
Support for open standards operating systems including Windows 10, Red Hat/CentOS 7.7 Linux, and VMware vSphere Hypervisor 6.7
"The NextStation-X is a compact, carry-on capable, deployable, high-performance workstation with up to two dual-wide NVIDIA Quadro and GeForce GPUs or other full-length FPGA cards for GPU processing. It features options for multiple removable NVMe SSDs for fast data access as well as high-performance network interfaces. It is Ideal for emerging edge computing use cases including AI and deep learning while bringing more power and consolidation benefits to traditional markets such as media, CAD, military, intelligence, first-responders, oil, and gas."
– Bob Labadini, CTO NextComputing
NextComputing offers a variety of services for all of our standard and custom products. With these additional services, you can outsource tasks and let NextComputing handle processes that are not core to your business so you can focus on what you do best.