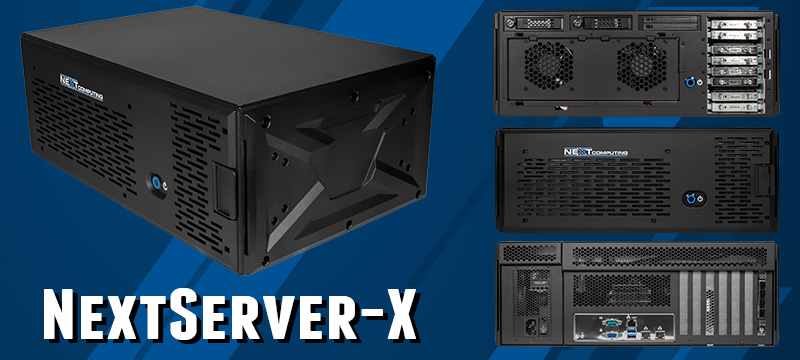 NextComputing, designers of innovative, incredibly small workstations and servers for creative professionals and the cyber-data analytics community, announce the release of the NextServer-X. This new short-depth rackmount system features up to 64 processor cores (128 Hyper threads), 1TB memory, PCI Express 3.0 I-O slots, high-performance NVME SSDs with sustained writes to 3.2GB/second and up to 8 removable 12G SAS or 6G SATA SSDs. The NextServer-X is less than 12" in depth for space-constrained racks or small footprint desktops, and small enough to fit within its TSA-compliant rolling carry-on case.
The NextServer-X is a modular, purpose-built, high-performance workstation and server. It's built for SAAS or solution provider use cases that are processing/memory intensive or storage performance demanding. The small form-factor NextServer-X is ideal for any mobile or deployable services at the edge of the network or on location as the system travels within a TSA compliant carry-on hardcase with telescoping handle and wheels.
Use cases for NextServer-X include cybersecurity incidence response, data collection, network analytics, big data analytics, simulation, modeling, GPU processing, rendering, or as a mobile server for military, intelligence, first responder applications.
Its short 12" depth and rack mount options for front I-O access or rear I-O access make it ideal for M&E production and live event use cases including broadcast trucks or other vehicles. It is ideal to use as a workstation with PCI Express I-O for on-set production rendering, encoding, graphics editing, color correction, streaming, ISO recording, and other live event use cases.
Key Features of the NextServer-X include:
Smallest form factor, highest performance: as a desktop or short depth rack mount
Easily transportable: system and hard case combined are less than 35lbs for single-person lift and TSA compliant carry-on
Modular and purpose built: for your-high performance computing use case.
As a high-performance server: Ideal for cyber analytics, data analytics, network forensics and data recording
As a high-performance workstation: Ideal for rendering and scientific simulation
AMD EPYC 64 core processor 128 Hyper threads, Intel Core or scalable dual-socket Intel Xeon processors
Ultra-fast removable storage technologies U.2/MVME and 12G SAS SSDs
Multiple PCI Express 3.0 slots for your purpose-specific I-O and co-processing
Support for open standards operating systems including Red Hat/CentOS 7.7 Linux, Windows Server and desktop, and vSphere for bare metal use cases
"The NextServer-X is an engineering powerhouse intended for demanding computing applications requiring purpose-built appliances for your service or software. It offers unprecedented capability in a small footprint which also fits within our TSA Carry-On compliant hard case and is a modular design which can be used as a rack mount, desktop, or stackable."
– Bob Labadini, CTO NextComputing
NextComputing offers a variety of services https://solutions.nextcomputing.com/services/ for all of our standard and custom products. With these additional services, you can outsource tasks and let NextComputing handle processes that are not core to your business so you can focus on what you do best.
For more information on the NextServer-X, please visit https://solutions.nextcomputing.com/products/rackmounts/nextserver-x/