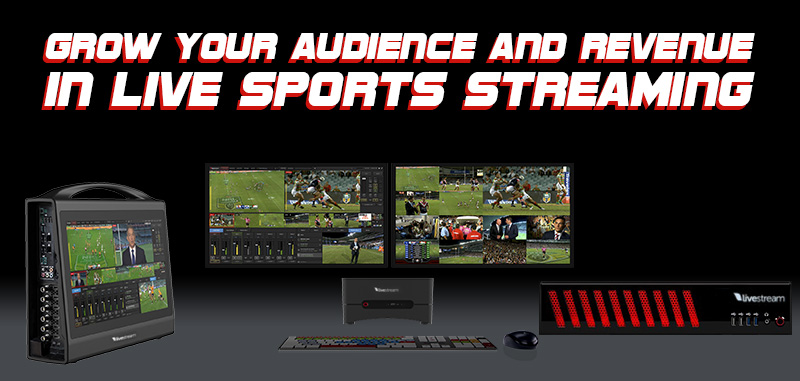 Livestream Studio appliances from NextComputing provide you with the software and hardware to bridge the gap between your camera and a premium streaming experience for your audience. Now more than ever, utilizing this technology is critical to adapt to the demands of a younger, tech savvy audience as well as the limitations of the ongoing pandemic.
Livestream Studio appliances for live sports broadcasts not only streamline your workflow but open new opportunities to grow your audience and your revenue.
Quick setup and operation lets you stream live video from the home games, away games, practices, interviews, off-field events and more.
Engage with your fans anywhere! Livestream Studio makes it easy for sports organizations of any size – from hometown teams to professional athletes – to stream professional quality live or recorded video online. Simple service integration lets you reach your audience via your own website or social video sites such as Facebook Live and YouTube.
Grow your revenue by integrating premium pay-per-view content as well as advertising.
The Philadelphia Eagles football team has seen steady growth in digital audience size since using Livestream Studio for streaming live and recorded video. Fans can easily access the content they create since they can embed that player in any channel. On the production side, this allows them to focus on delivering great content instead of worrying about the quality of the viewing experience.
"When you get your peers reaching out to you saying, 'How do you do this and how can we do the same thing?' that means we have a good formula. With the Vimeo OTT and Livestream Studio handling the technology and functionality we can concentrate on the content itself."

Matt Leblang
Studio/Live Production Manager, Philadelphia Eagles
According to the Center for the Digital Future at USC Annenberg and ThePostGame, 63% of all sports fans are interested in paying for an all-sports over-the-top channel. Of those interested in streaming sports, 56% would pay more for online streaming than for traditional TV channels. In households with children that number jumps to 70%, or 78% for people who self-report as "intense" sports fans.
Click here to learn more about these statistics and how the Eagles have built a powerful on-demand platform. Live Streaming Sports Statistics: 12 Stats About Fan Viewing Habits
Click here to read more about this study from to the Center for the Digital Future at USC Annenberg and ThePostGame and how GenZ and younger Millennial sports fans are driving fundamental changes in programming, platforms and purchasing.