The Smallest and Lightest All-In-One Portable Production System
At half the size and weight of other all-in-one portable Wirecast systems, the Radius is perfect for live event producers that require the most compact and transportable equipment possible, without sacrificing performance.
Whether you're broadcasting a rock concert, streaming a church sermon, or recording a corporate training video, the combination of rock-solid hardware from NextComputing and Matrox with Telestream Wirecast live production software gives you a reliable platform for any video production situation.
Multi-Camera Webcasting and Recording
This system combines three important technologies to create a bundled, turnkey solution that is powerful, yet easy to use:
Radius – NextComputing's portable computer with integrated 17-inch monitor
Matrox VS4 – Quad-input HD-SDI capture card
Wirecast Pro – Live production switching and streaming software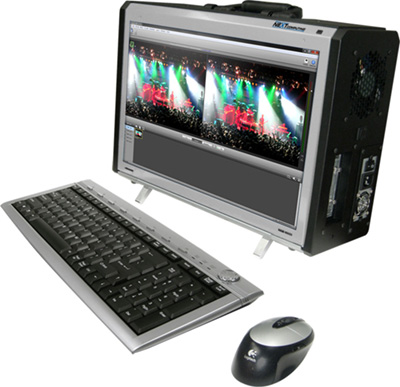 Key Features
All the powerful features of Wirecast Pro, including:

Unlimited capture sources like cameras, USB webcams, remote computer desktops, and IP network video feeds
Stream your event to your in-house streaming server or to one of many popular streaming services such as YouTube Live, Limelight, Brightcove or Ustream
Built-in, multi-format encoding, including Flash, Windows Media, and QuickTime
Professional graphic overlays and transitions with up to 35 layers of live compositing
Chrome keying with built-in virtual sets

Compact, portable system with integrated monitor that's easy to take around to any location
Fits most airline carry-on luggage requirements – even inside its case!
Output your broadcast to an external display for iMAG
Output to SDI or HDMI output to an external encoder or other downstream equipment (requires additional video card)
ISO record up to 4 full-resolution camera feeds using the Matrox VS4 for post-event editing or archiving in NLE-friendly codecs to .MOV files
Get It Now!
This powerful bundle is available from the following reseller and integrator partners:
If you're looking for a customized solution or wish to become a reseller, please fill out our information request form or call us at 1-603-886-3874.