Portable Professional VR Development Solutions
The world of virtual reality technology is changing and improving rapidly. From 3D modeling to UAVs to 360-degree photography, VR technologies enhance multiple professional applications.
Computer manufacturers are upgrading their offerings to provide the graphics capability, processing power, and memory necessary to create a seamless VR experience for users and developers. NextComputing has built these kinds of high-performance computers, such as the Radius Edge, right from the start.
Combined with cutting edge hardware and applications from our trusted partners, NextComputing's VR development systems enable media producers and virtual design & construction professionals to build virtual content with minimal setup, and provides the performance needed to step inside their design and better communicate their vision, while at the same time reducing costly errors and providing a venue for clients to play an active role in their projects.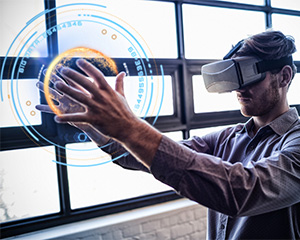 The Radius Edge is built from the ground up for portability and seamless graphics performance. Even with its desktop-workstation-class performance and integrated display, it is compact and lightweight for easy transport and setup. As part of a VR development suite, you now have the ability to work anywhere, or bring the highest performance VR presentations directly to your clients.