Powerful 3D engineering, analysis, and modeling on the go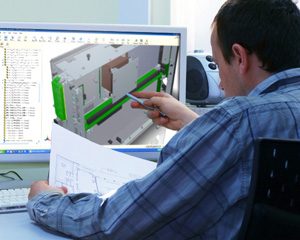 Complex engineering and design projects require the power to work with full data sets with real-time interactivity and in potentially numerous locations, from designing and engineering in different departments to demonstrating designs to key stakeholders onsite. And the ability to make critical design decisions "on the fly" with all relevant data at hand is essential in a fast-paced, collaborative design environment.
A desktop CAD workstation is often the best choice when working from a fixed location. However, when travel needs arise, a typical notebook will simply not suffice for this kind of heavy work load, and the sacrifices for choosing convenience over performance are too great.
NextComputing's family of powerful, portable workstations is designed to provide the high-end characteristics of a professional 3D CAD workstation in a compact, portable form-factor. With the same multi-core processing, high memory capacity, and professional graphics capability of your larger desktop workstation, our systems give you all the performance you need, with the ability to go anywhere your work takes you.
Use NextComputing Solutions For
Product Design and Visualization
Collaborate more efficiently by developing designs with your customer, incorporating new ideas, then testing and visualizing them. Multi-task between visualization applications, like Autodesk® Alias™, and engineering applications, like Autodesk® Inventor®, to quickly see the results of your work.

Mechanical CAD Engineering
Speed up the product development cycle by working with larger assemblies and more complete data sets, using applications such as SolidWorks. Save time by getting your ideas in front of the right people in a timely fashion. Work anywhere, not just at your office workstation.

Architectural Engineering and Construction
Make critical decisions with key project stakeholders in a collaborative environment with all relevant BIM data at your fingertips in powerful applications like Autodesk® Revit® Architecture. "Wow" your clients with real-time walk-throughs. Save precious space and power in cramped trailers and remote offices.

Computer Aided Engineering / Computational Fluid Dynamics
When mission-critical design decisions must be based on accurately simulated environments, ensure that everyone involved can properly evaluate the impact. React quickly to implement important changes before mistakes end up in the finished product. See the impact of engineering decisions in CFD tools such as CD-adapco STAR-CD or ANSYS FLUENT®.

Electronic Design Automation
Visualize huge, complex designs with the ability to simulate and validate concepts collaboratively amongst disparate groups or teams. See how the individual part works with the whole system. Leverage compute-intensive electronic applications from Mentor Graphics, Synopsys, or Cadence Design Systems.


Explore our product lines to learn more, or contact us to speak directly to a Sales Engineer about your specific needs.