Powerful, high-speed data recording with massive storage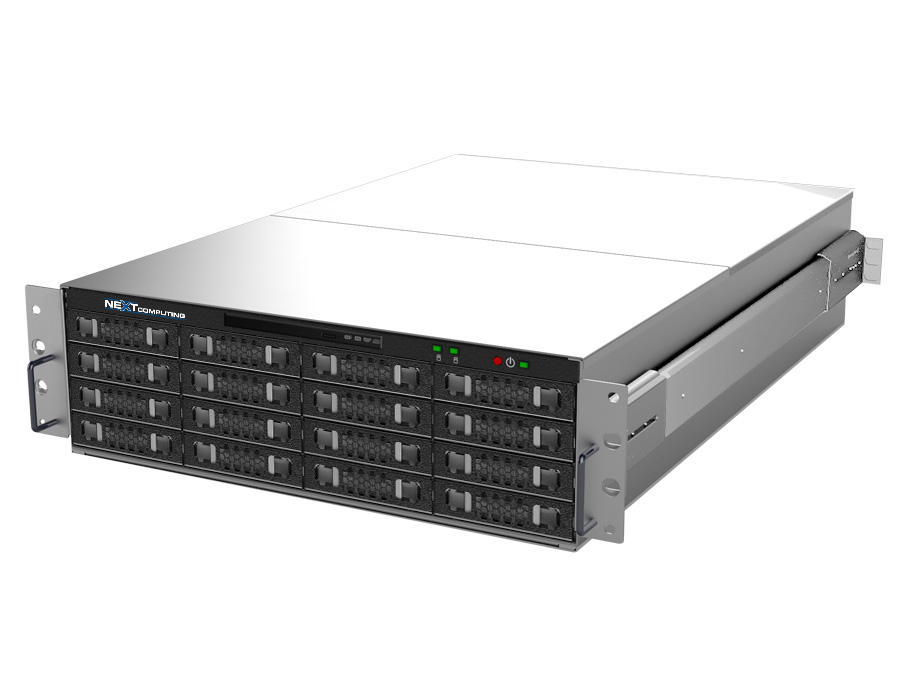 High-Density Design

25.5" rack depth, 3U height

High-Performance

Fast Intel® Xeon® and Intel Core i7 processors and up to 512GB DDR3 memory

Massive Storage

Up to 16 front-access removable 3.5" SATA or SAS hard drives

PCI Express Expansion

Up to 7 full-length, full-height PCI Express expansion slots

Reliable, Flexible Power

Redundant 1300W power supply or 48V DC power option

Application Support

We work directly with our customers every day to ensure that our computers meet their unique requirements
The Nucleus Capture 16X3 is a customizable, reliable, high-throughput platform for data recording. Key features that differentiate this from other platforms are massive storage capacity (in the form of 16 front-access 3.5" hard drives), and deep customization options (including proprietary IO modules and custom branding).
True to NextComputing's architecture, the Nucleus Capture 16X3 also features high-performance multi-core processing, near limitless expandability, and additional services such as configuration management and integration.
The Nucleus Capture 16X3 enables very high sustained write-to-disk rates for capturing network traffic at full 10Gb/s line rate or higher, while flexible I/O provides future expansion to faster interfaces such as 40G and 100G Ethernet.
System Specs
Available CPUs
Single or dual Intel® Xeon or single Intel® Core­™ i7
Memory
Up to 512GB DDR4 2133MHz RAM
PCI Expansion
Up to (7) full-length, full-height PCI Express 3.0 slots
Removable Storage

Up to (16) internal, no-tools removable SATA, SAS, or Solid State hard drives
Or up to (4) front-acess and (12) internal no-tools removable SATA, SAS, or Solid State hard drives

Available Drive Capacities / Features

SATA up to 2TB each
SAS up to 2TB each (or 10K RPM up to 1.8TB each)
Solid State Drives up to 4TB each
Encryption options available

RAID
Onboard SATA RAID 0/1/5/10, or via add-on PCIe RAID controller
Operating Systems

Windows 2012 and 2016 server, Windows 7 Pro/Ultimate, Windows 8.1 Pro/Ultimate, and Windows 10 Pro
CentOS, Red Hat and other Linux distributions
VMware vSphere Hypervisor (ESXi) and other virtualization environments

Power Options

700W 50/60Hz 110/220V AC power supply
650W 50/60 Hz 110/220V AC, 1+1 redundant
1300W 50/60 Hz 110/220V AC, 2+1 redundant hot-swappable
650W 48V DC, 1+1 redundant
1300W 48V DC, 2+1 redundant hot-swappable

Physical
16.5" (419.1mm) W—not including side rails x 5.25" (133.35mm) H x 25.5" (647.7mm) D
Optional Equipment

Swing-out LCD panel for system monitoring and control
Rugged rolling transit cases in 4U, 6U, and 8U sizes
1U, 17" folding rack-mount LCD console with keyboard, touchpad, and 8-port KVM
DVD-RW / BluRay optical drive

Warranty
1 year parts and labor; 2nd and 3rd year warranties available