Innovative design, massive storage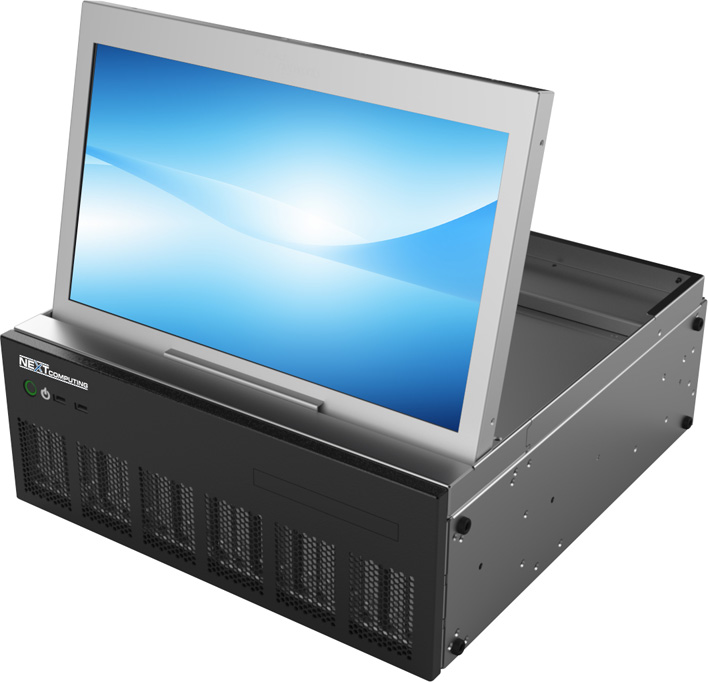 Unique Design

Portable form factor with integrated screen and rackmount options

Workstation-Class Performance

Configurations available with single or dual Intel Xeon or single Intel Core i7 and up to 512GB RAM

PCI Express Expansion

Up to (7) PCI Express expansion slots with support for a range of graphics cards from NVIDIA and AMD

Massive Storage

Up to 24 hand-removable hard drives

Easy Transportation

Monitor folds into chassis. Cases available for effortless relocation

Application Support

We work directly with our customers every day to ensure that our computers meet their unique requirements
The Radius PRM combines the massive storage potential and enterprise-level computing performance of a rackmount system with the compact form factor and integrated display of a portable system. This innovative platform offers new solutions to your toughest and most unique computing demands.
The innovative features of the Radius PRM separate it from any other high-performance system. It offers performance and removable storage unprecedented in a portable or a rackmount of such compact size. The integrated display, briefcase-like handle, and optional traveling cases mean you have an all-in-one powerhouse in a package smaller than a carry-on.
The system is optimized for applications that require a high level of processing, memory, and storage. It is ideal for data streaming, packet capture, and a wide range of intense processing, algorithmic, and virtual applications.
System Specs
Available CPUs
Single or dual Intel® Xeon or single Intel® Core­™ i7
Memory
Up to 512GB DDR3 RAM
PCI Expansion
Up to (7) full-length PCI Express 3.0 slots
Storage
Up to (20) front-access removable SATA, SAS, or Solid State Drives and up to (4) rear-access drives
Available Drive Capacities / Features

SATA up to 2TB each
SAS up to 2TB each (or 10K RPM up to 1.8TB each)
Solid State Drives up to 4TB each
Encryption options available

RAID
Onboard SATA RAID 0/1/5/10, or via add-on PCIe RAID controller
Optical Drive
Internal DVD+RW or Blu-Ray RW
Display
Integrated flip-up 17.3" (439.42mm) LED LCD (1920×1080) with optional touchscreen
Operating Systems

Windows 2012 and 2016 server, Windows 7 Pro/Ultimate, Windows 8.1 Pro/Ultimate, and Windows 10 Pro
CentOS, Red Hat and other Linux distributions
VMware vSphere Hypervisor (ESXi) and other virtualization environments

Power

700W 50/60Hz 110/220V AC power supply
Optional 1200W 50/60Hz 110/220V AC power supply

Physical
17.35" (440.69mm) W x 6.67" (169.42mm) H x 18.22" (462.79mm) D
Carrying Cases
Optional soft transport case available
Warranty
1 year parts and labor; 2nd and 3rd year warranties available