Desktop Computing on the Go!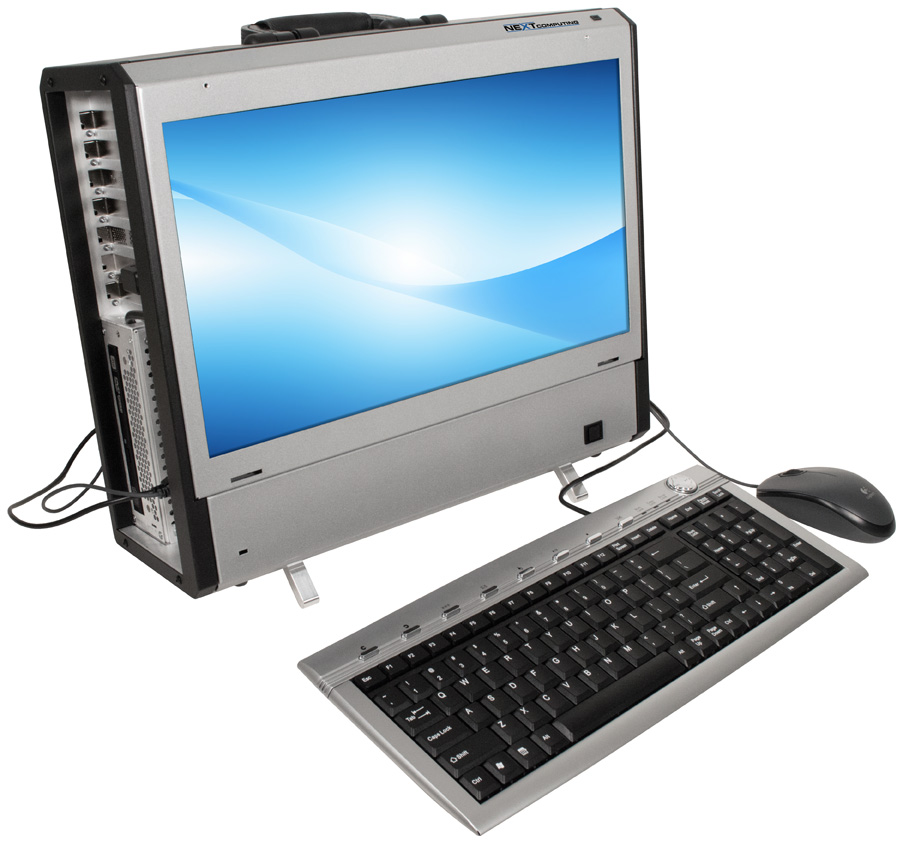 Connector.

Unique Portable Design

Briefcase-like form factor and integrated 17.3″ Full HD display, with optional capacitive touchscreen

Connector.

Workstation-Class Performance

Configurations available with single or dual Intel Xeon or Intel Core i7 and up to 256GB RAM

Connector.

PCI Express Expansion

Up to (7) PCI Express expansion slots with support for a range of graphics cards from NVIDIA and AMD

Connector.

Extensive Storage

Up to 14 internal removable hard drives, or up to 20 internal fixed hard drives, up to 2TB each

Connector.

Easy Transportation

Includes carrying case for system and accessories. Optional rugged transport cases also available

Connector.

Application Support

We work directly with our customers every day to ensure that our computers meet their unique requirements
What do you do when your applications need a full-fledged workstation computer to run properly, but your work often takes you out of the office? Do you box up that bulky tower and monitor and pay to ship it around? Or do you "dumb-down" your applications so they can run on a laptop? Have these sacrifices slowed you down, or worse yet, hurt your business?
The Radius EX portable server/workstation helps solve these problems by giving you the same performance as your larger, stationary system, but in a compact, all-in-one package that's easy to take around. With the latest Intel® Core™ i7 and Xeon® processing and massive amounts of RAM, storage, and PCI expansion, you sacrifice nothing and gain the convenience of a powerful mobile system that can go anywhere.
Optional Equipment
Lightweight, portable external displays
Rolling transit case with telescoping handle and wheels
Rugged hard case (MIL-STD-2073)
Secure wireless keyboard with integrated trackball
External battery pack
System Specs
Available CPUs
Single or dual Intel® Xeon or single Intel® Core­™ i7
Memory
Up to 256GB DDR4 2133MHz RAM
PCI Expansion
Up to (7) full-length PCI Express 3.0 slots
Removable Storage
Up to (14) no-tools removable drives; SATA, SAS, or Solid State Drives
Fixed Storage

Up to (18) internal, fixed SATA or SAS hard drives
Up to (20) internal, fixed Solid State Drives

Note: mutually exclusive with some removable drive configurations

Available Drive Capacities / Features

SATA up to 2TB each
SAS up to 2TB each (or 10K RPM up to 1.8TB each)
Solid State Drives up to 2TB each
Encryption options available

RAID
Multiple SATA/SAS ports with RAID 0/1/5/10 options
Optical Drive
Internal DVD±RW or Blu-Ray RW
Display

Integrated 17.3" LED LCD (1920×1080) with optional capacitive touchscreen
Support for external displays including NextComputing's specially designed clip-on displays

Operating Systems

Windows 2012 and 2016 server, Windows 7 Pro/Ultimate, Windows 8.1 Pro/Ultimate, and Windows 10 Pro
CentOS, Red Hat and other Linux distributions
VMware vSphere Hypervisor (ESXi) and other virtualization environments

Power

460W or 700W 110/220V 50/60Hz auto-switching 80 PLUS rated power supply
Optional internal 460W/24V DC nominal (19V-36V DC range) power supply

Environmental
Based on typical configurations. Custom configuration results may vary:

Operating: 5°C–40°C / 41°F–104°F.  Non-Operating: -20°C–70°C, -4°F–158°F.
Relative humidity (5-95%) non-condensing

Regulations
FCC Class A, and CE. Certified TUV
Physical

6.06" (153.92mm) D x 16.76" (425.70mm) W x 14.9" (378.46mm) H – including folded-down handle
17-22 lbs. (depending on configuration)

Carrying Cases

Includes soft carrying case
Optional hardened case and rolling transit case available

Warranty
1 year parts and labor