Maximum Performance and Storage in Tough Environments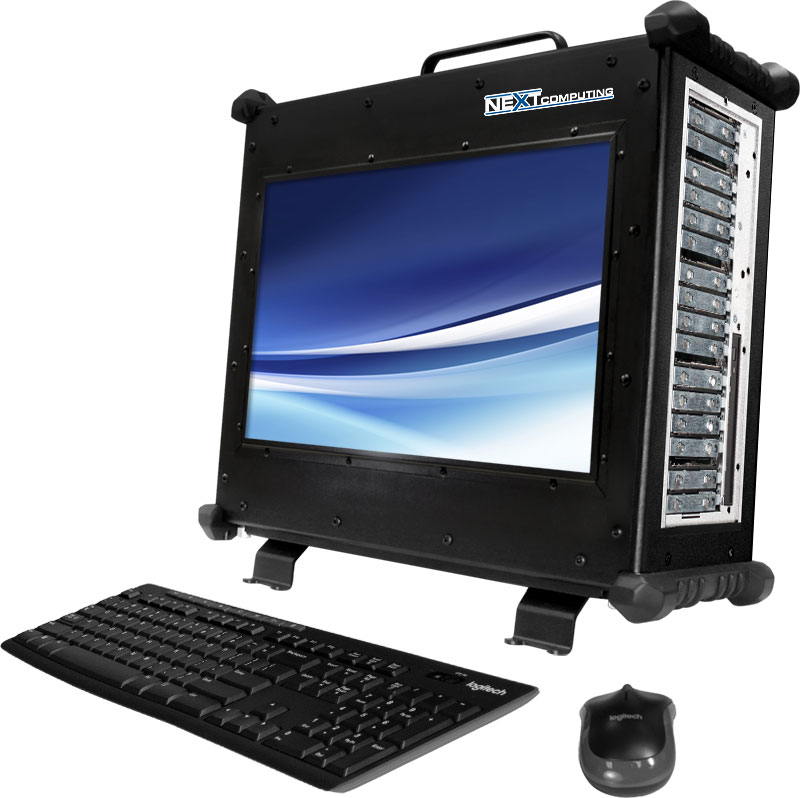 Rugged Portable Design

Integrated HD monitor and dual-chassis design featuring shock-mounted internal chassis suspended in a rugged, mil-anodized external chassis with no metal-to-metal contact

Workstation-Class Performance

Configurations available with single or dual Intel Xeon E5, single Intel Xeon W, Intel Core i7, or Intel Core X-series processors and up to 256GB RAM

PCI Express Expansion

Up to (7) PCI Express expansion slots with support for a range of graphics cards from NVIDIA and AMD

Massive Storage

Up to 16 easy-access removable hard drives with RAID.

Add-On Features

Additional monitors fold together for an easily transportable triple-display workstation. Dust filtration allows for continuous use in harsh environments.

Application Support

We work directly with our customers every day to ensure that our computers meet their unique requirements
Graphics- or processing-intensive applications like geospatial imagery analysis, UAV ground control, or HD digital video processing require very powerful computer hardware.
However, for mobile deployments where size, weight, power, and cooling (SWaP-C) are a concern, typical rackmount servers are just too large, heavy and power consuming.
The Vigor series is the perfect solution to overcome these problems.
Compact, rugged Vigor systems are designed to handle the same demanding tasks normally assigned to full-sized systems. Now you can replace larger rackmount hardware with an all-in-one workstation that is easier to transport and set up.
The modular, scalable Vigor EDS can be outfitted with the latest Intel multi-core processors, high-capacity/performance memory, full-size PCI Express 3.0 cards, and up to (16) removable enterprise-class SSD, SAS, or SATA drives.
Soft Case
A high-quality, padded carrying bag is available for Vigor systems.
Has room and extra pockets for your keyboard, mouse, cables, and other items
The case can be branded with your logo stitched on the front
Comes with a two shoulder harnesses for side-slung or backpack-style / ruck-style carrying
System Specs
Available CPUs
Single or dual Intel® Xeon E5, single Intel Xeon W, Intel® Core™ i7, or Intel Core X-series
Memory
Up to 256GB DDR4 2133MHz RAM
PCI Expansion
Up to (7) full-length PCI Express 3.0 slots
Storage
Up to (16) no-tools removable drives; SATA, SAS, or Solid State Drives plus up to (2) fixed internal hard drives
Available Drive Capacities / Features

SATA up to 2TB each
SAS up to 2TB each (or 10K RPM up to 1.8TB each)
Solid State Drives up to 4TB each
Encryption options available

RAID
Onboard SATA RAID 0/1/5/10, or via add-on PCIe RAID controller
Optical Drive
Internal DVD±RW or Blu-Ray RW
Display

Integrated 17.3" (439.42mm) LED LCD with up to 2 additional swing-out displays (1920×1080 each)
Optional capacitive touchscreen (center display only)
Support for external displays

Operating Systems

Windows 2012 and 2016 server, Windows 7 Pro/Ultimate, Windows 8.1 Pro/Ultimate, and
Windows 10 Pro
CentOS, Red Hat and other Linux distributions
VMware vSphere Hypervisor (ESXi) and other virtualization environments

Power

680W Gold Plus acoustically quiet PSU

Environmental

Based on typical configurations. Custom configuration results may vary:

Operating: 0°C–40°C / 32°F–104°F.  Non-Operating: -20°C–70°C, -4°F–158°F.
Relative humidity (5-95%) non-condensing
Shock: Mechanical shock: ≤10g, 11ms, Terminal sawtooth, operating; Transit shock: 18" drop
Vibration: ≤0.04g2/Hz, 20Hz–1,000Hz; -6dB/octive 1,000Hz–2,000Hz

Filtration
Optional dust filter kits are available. Filtration material features cable exits for system operation while the filters are attached
Regulations
FCC Class A, and CE. Certified TUV
Physical

8.67" (220.22mm) D x 19.18" (487.17mm) W x 16.55" (420.37mm) H
Weight: ~ 48lbs. (21.77kg), depending on configuration

Carrying Cases
Optional padded carrying cases or rugged rolling transit cases available